An Interview with Jeremy Kovak
By: Ryan Shimabukuro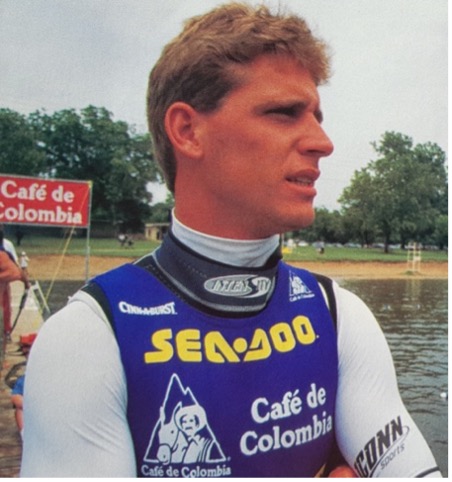 There are many words to describe Canadian, Jeremy Kovak. Athletic. Articulate. Big. Outspoken. Technical. Machine. Those are just some that come to mind. But for one of the most accomplished riders in our sport's history, Jeremy typically just let his riding do the talking. It's been over 20 years since "The Kid" left the competitive arena & walked away from wakeboarding all together. We'd normally give a more descriptive introduction leading into an interview, but we felt the words from a rider of Shannon Best's stature says it all.
Foreword by Shannon Best: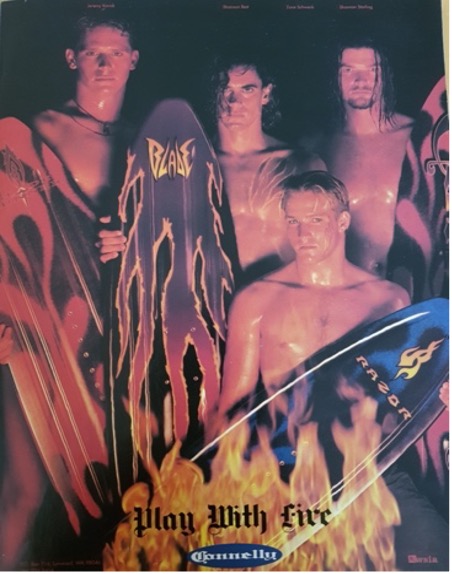 Jeremy is a pioneer. He was right there, training in the same boat with the same coaches as Darin Shapiro & innovating just as much as he was. However, Jeremy was twice his height, was also incredibly strong & it reflected in his riding style. The problem was that he made everything look so easy. When you watched him ride, he went so big & smooth, that I think it was a detriment to his riding. Jeremy took even the hardest tricks so big. He threw a back mobe off the wake & cleared a four-foot high rainbow slider during the World Championships at Crane Roost Park.
Jeremy was very under-rated & never gets the credit that he actually deserves. In competition, when he stood up, no one came close. He was also over-shadowed by Scott Byerly & Darin. There's a very short list, but Jeremy was my favorite rider of all-time. Very quick to help if you had a problem with a trick, he was always there to lend a hand. I can't say enough about the guy. He was one of the most controversial riders on Tour, but for all the right reasons. He threw an attitude but backed it up! In this day and age, he would've excelled as a poster boy because that whole bad boy image is sort of gone. He's a true legend & as far as an athlete goes, he could have easily done any sport he wanted to & been top-level at it. I'm convinced of that!
Wakeboarding was so lucky to have him & it's a shame that he never connected with that second generation of kids that came through because he can radically change a rider's attitude towards the sport.
Reconnecting:
WHF: Jeremy, it's been over 20 years since you retired from professional wakeboarding, what have you been up to all these years? 
JK: When I retired, I had to figure something out. All I knew was wakeboarding & skiing behind a boat. Once that was done, to hold me over, I had a wakeboard camp for about three years. Then I wrote & sold a wakeboard book called, "Wake Physics" for a few years & then I had to face reality. It was either stay in the industry or get out. And the only thing I really knew how to do was what my dad did, which was construction.
I helped my Mom & Dad in my childhood, so it was second nature to me. Now I'm a contractor.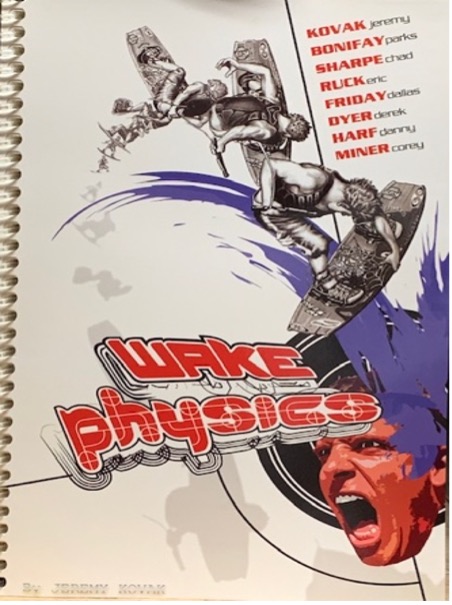 WHF: Your wife, Britt Larsen Kovak, was also a pro wakeboarder, but more well known for her trick skiing career. Are watersports still a part of your lives?
JK: It's crazy, because it's not. We bought my parents lake house in Ontario, that I trained on. I take people skiing almost every day during the summer, but for whatever reason neither one of us get on the water. It's very rare, but she probably gets on her trick ski once a summer for fun. For me, every couple of years I may hop on a wakeboard and mess around. It's sad to say, but we've hung that up.
My daughters, Sailor (18) and Remy (17), know how to waterski & wakeboard. They do everything. I wish they would do more of it, but I don't push them. To a fault sometimes, they just get lazy & I should be more assertive with them but they'll go wakeboarding maybe six times a year at best. It's sad because they're pretty good at it but they just don't really have the drive for being competitive. For me, even though I don't do it, I really wish they did. I'd love to see my kids out on the water ripping it up & having fun.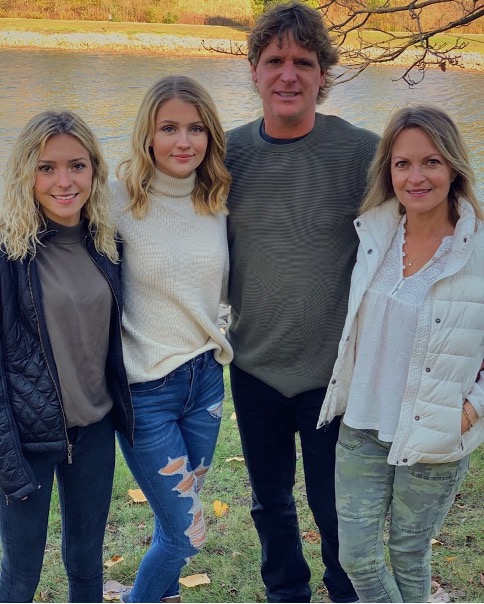 WHF: You started in 3-event before switching to wakeboarding. How were you introduced to waterskiing & what led to your decision to switch to wakeboarding full time?
JK: My waterskiing came from my dad. He had a waterski club before I was born, on a river, at a trailer park in Dunnville, Ontario. I started waterskiing when I was four & my dad  never really pushed me but by the time I was about eight years old, I loved it and couldn't get enough. By the time I was thirteen, I was on the Canadian Junior Team. I loved gymnastics, being upside down & doing acrobatics. As soon as people started doing flips on a trick ski, I immediately had to figure out how to do it. I would bust my butt & eventually would learn how to land it.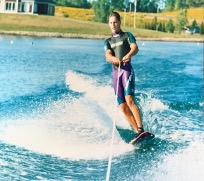 One day, I showed up at Mike Ferraro's place. I see this guy flying through the air, coming down the lake just doing flips & landing out beside the boat. I was losing my mind and I asked, "who is this guy and what's he doing"? It ended up being Darin Shapiro. He had just invented the Air Raley, and was doing flips out into the flats on the new Hyperlite board. At that point, I didn't care about skiing anymore. I was almost angry and frustrated that someone else was that good on the water. At the time, I didn't have a wakeboard and I didn't even know what one was. So, I went out on my trick ski that day and immediately learned an Air Raley & started doing flips as far out as I could while taking many crashes. The only thing I knew up until then was water skiing & I just signed a contract with Duvall skis. They had wakeboarding in my contract, which was awesome. I could quit trick skiing & pursue wakeboarding, so that's all I did & all I cared about. I know in the wakeboarding world it's not something you want to admit but I respected waterskiing. However, I loved wakeboarding! I could not get enough time on the water doing it.
WHF: Several have said you're one of the most athletically talented people they've seen on the water. Where did your focus & drive come from?
JK: I don't know. Growing up, I was always doing flips & cartwheels, whether it was jumping on a trampoline, on the ground or on the water. I loved being upside down & had pretty good spatial awareness. I just know that when I would see someone doing any sport, the guy that was perfect and was excelling, was noticeable. I thrived and felt challenged in that moment. I was a perfectionist. To a point, I think it hurt me in wakeboarding. Back then, I know "clean" riding wasn't accepted. They wanted to see more of the carving, surf style riding. But as far as my riding, I always tried to do everything as clean as I could.
There were a lot of tricks that I could land 90% of the time but never did in a tournament because I felt it wasn't good enough. The only ones I would do in a tournament were the ones I made sure I stood up to make it to the Finals. In the Finals, I would pretty much throw everything I had. But there are tricks that I wish I did do. It's kind of silly now, but I was so concerned about being technical, and at the same time making sure I stood up & did well. Now when I look back, I wish I had let my hair down & if I fell then so be it. I just wish I had given it everything I had, every time I had the opportunity.
WHF: What kind of tricks would that have been?
JK: I learned the Mobe 5, and I remember Parks saying, "Your mobes are so big, why don't you just learn to do the mobe 5 out into the flats?" So that's what I did. Jeff Heer would be driving & I'd do the mobe 5, then the air mobe 5 & then come back in with the switch mobe 5 landing forward. I'd just repeat it over & over & over. Matt Connelly would always give me a hard time for not putting them in my run. But the way I thought back then, right or wrong, was your placements at each tournament obviously determined your standings at the end of the year & that's how you got contracts, which was you livelihood. And if you fall once, you're done. I already had 3 mobes in my run & didn't feel I needed the mobe 5's. My brain was thinking like water skiers, but instead, I wish I had just gone for it. I believe that people & judges would've appreciated me more if I didn't  care. That I just went out there & went for it all.
WHF: Why do you think "clean" riding back then got knocked?
JK: When wakeboarding came on the Pro Tour with water skiing back then, it was like having snow skiing & snowboarding together. It doesn't work. Wakeboarding was fairly new at the time & it got into the X-Games, and the organizers didn't want to miss the boat. They really wanted to drive it as a board sport, and when you see surfers & the way they look on a surfboard, as well as how skateboarders & snowboarders look, that's what they wanted. Scott Byerly was demonstrating that. They didn't want to see tame water skiers, and that's why I think they rewarded that style of riding.
Because of water skiing & how many hours on the water I had, I was so comfortable with my feet in bindings, a rope in my hand & being behind the boat. That is another reason why I believe I might have been so clean. Because some of the other guys didn't have the hours behind the boat, they didn't technically perfect every trick & would crash. But the promoters and industry didn't seem to care and wanted to reward a look that was on the cutting edge. Wakeboarding has evolved so much now & riders are so good that I assume they have to nail everything perfect in their runs. But in all honesty, since I moved back to Canada many years ago, I don't know what's been going on in wakeboarding or water skiing. Which is really sad. I'd be the first to admit that someone like myself should stay on top of it & be aware of what's going on. Actually, I do watch The Masters wakeboarding each year on the live stream. And while I may not know the riders, they've definitely stepped it up.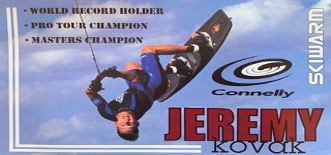 WHF: Being from Canada, obviously your season was much shorter. What was your yearly training & travel schedule like when you first were starting out?
JK: In Canada, the day the ice was literally off the water was the day I started training. I had a drysuit & I trained every day until the lake froze again usually sometime in late November. During the three months of winter when I was in school, I didn't do anything except play all types of sports but nothing specific for water skiing. For a month before the season started in Canada, my parents would take me out of school & I'd go down to Florida & train at Okeeheelee Park. I would stay in Florida until the ice at home, in Canada, came off the lake in March. I did this for six years before I turned 18. Then when I was 18, I moved to Florida full time by myself, training with Mike Ferraro & riding with Jeff Heer.
WHF:  When you competed, what were your goals?
JK: The first was to stay on top. I would think that for any athlete, once they got to that point would be to maintain it. Next, I loved having fun. My favorite thing to do was to go to events, do a clinic, meet people & then go hang with them at night. Especially at wakeboard events, you're in a small world, somewhat of a celebrity & people look up to you so obviously it's a great feeling. And contrary to popular belief, and there's a lot people that don't know me & know how I am, but I would treat everybody with the upmost respect & be as kind as I could. I used to get criticized all the time for signing posters & autographs, and I'd always ask the person their name & if they wakeboard. So, I'd write every single person a little special note because I remembered what it was like for  me when I water skied. My heroes were Sammy Duvall, Carl Roberge & Andy Mapple. When I was really young, I went to a Pro Tour event & got their autographs. I can't tell you what that meant to me as a kid & telling all my friends who they were & what that meant to me. So, I tried to be a good role model. That being said, I got a lot of flack for that & people gave me a hard time, but it was really important for me to be a good role model.
The third thing, and I hate saying this because I know with certain sports, you're not supposed to do it for the money. You do it because you love it, and in the past, that was an argument I had with certain riders. But at the end of the day, my parents didn't have the money to fund me. So, I had to make money & unfortunately, that was my livelihood. If I wasn't making money at wakeboarding, I had nothing. It wasn't the most important thing to me, but maintaining a high rank allowed you to get good contracts so you could make money, continue to do the sport & live in Florida. Maybe now it's different, but back then, saying you did something for money was somewhat of a no-no.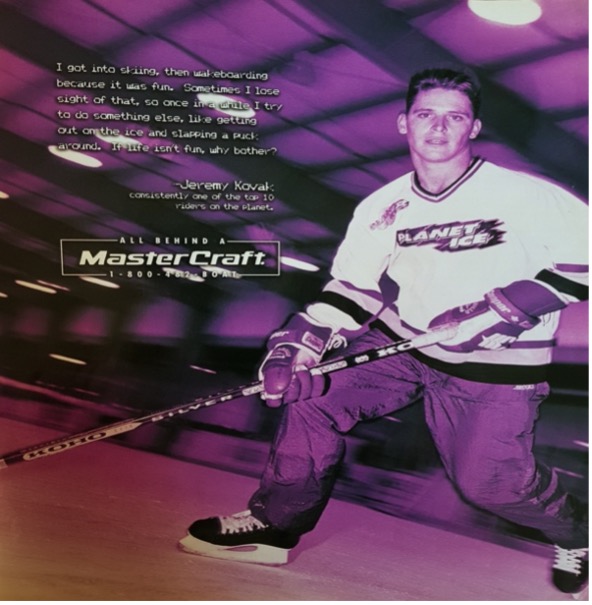 WHF: You are a two-time World Champion, Master's & X-Games champion. And although you were so close in 1997, the Overall Pro Tour title eluded you. Is there any goal that you didn't achieve?
JK: There is one, but it is my fault. I would've liked to have been on the front cover of Wakeboarding Magazine. I was the only wakeboarder, that was anybody, that has never been on the cover. But that was my own doing. It started the end of my caree when all of this went down. It started when "someone" at the Magazine called me & started putting pressure on me to convert because I wasn't portraying the image that they wanted for the sport. For me personally, it wasn't something I wanted to do.
It was quite a conversation & he basically said, "Listen, if you don't convert, you're going to regret it." Converting meant having a more "New Crew" look. I wasn't willing to compromise my values. I then realized right away it was a threat, and what does that mean? Now, I know there's always negative things said about every single rider, but from that point on, in the Reader's Poll in the Wakeboarding Magazine, any negative comment that was ever written or said about me, he published everything. Then he started taking things out of context. After I won the X-Games (it's still something that bothers me until this day) maybe it sounded like I was bragging, but I wasn't. The media came up to me with the camera after I just won & asked me how I felt. By now, I had won several major events but there was no better event to win in my mind than the X-Games. I was so excited & my point when talking to the media was that nothing compared to this win. That it was the greatest feeling in the world. Then this "person" gets in there & starts twisting my words, saying that I said, I've won this, I've won that, look at me, I'm great. You know as well as I do, that when people after that heard the name, Jeremy Kovak, even people who never met me, had this image that I was uptight and no fun. But everywhere I went after that, whether it was to do a clinic, a boat show or whatever, every single person I met would say, "You're nothing like that. I thought you were totally different than the way you are. You're so much fun." The reason why people said that was because of him. Through the years, he painted this negative picture of me & went out of his way to do it. That's why I quit. I didn't quit because I was too old.
After the 1996 or 1997 Masters, I called him up & said that if you put any picture of me in the Magazine again, or do anything with me in that Magazine you're going to hear from my lawyer. It was my way of telling him to screw off after spending the last five years of my going to all the photo shoots, for free, whenever he requested, to help the Magazine with its success when they were starting. At the time, it was just me, Darin, Scott, Dean Lavelle, Jeff Heer, Gator, etc. There was a group of about ten guys during the first couple of years, so they needed us in the Magazine to help them out and I was happy to do it. I helped him out with anything he needed me to do & then he just threw me under the bus. So, I just told him that you're never putting my face in the Magazine again, and we're done. Around 1998, after not speaking to him for a couple of years, he wanted to do an interview. I said, "I'll do the interview, but it has to be recorded. Draft it  up so I can proof read it before it goes to print. If there's anything that gets changed, there will be consequences." Because of him, the New Crew guys got on his side, so at that point, I was a pretty bitter guy. And unfortunately, that's why I quit.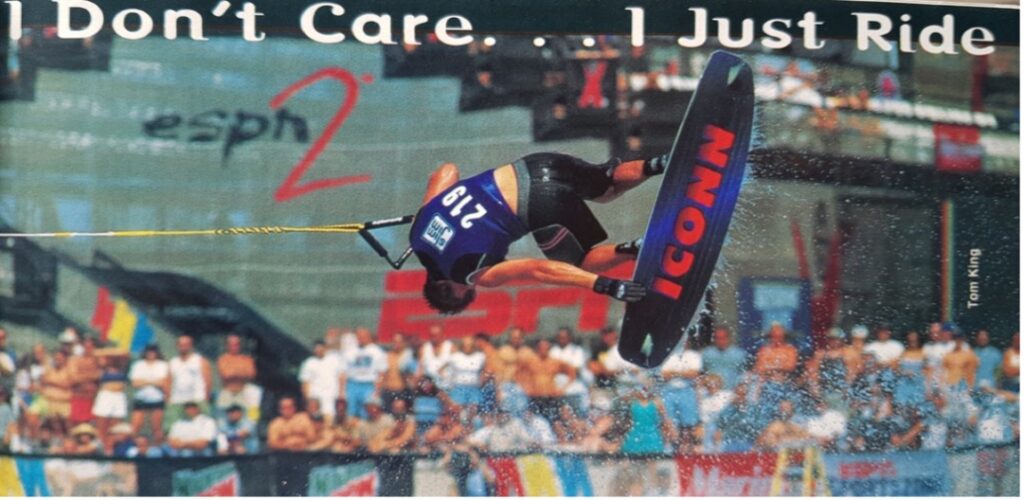 WHF: Back in the day, you faced some heavy criticism from a few people. Being called a skiboarder, etc. Is there anyone in the wake community that you honestly didn't get along with?
JK: Yes, there is. There wasn't really anyone that I didn't get along with but there was some I didn't like. I always tried to treat everybody the way I want to be treated, but there was a couple of people who got under my skin, and they had a big part in my decision to quit. I don't want to say any names but there were definitely a few people I wasn't crazy about.
It is what it is, but everyone grows up. I look back & I ask myself, "What life could I have had, that would've been any better?" I'm so lucky to have lived that life. So, if I saw them anywhere now, I'd invite them for a beer, because I'd assume there's nothing between us and there's no hard feelings.
WHF: I received this comment from Mike Weddington when I told him & Tommy that I was doing this interview with you. Mike said, "I hope there's some discussion about the outwardly seeming "divide" between skiers and wakeboarders, as the magazines always seemed to put Jeremy and Scott at odds. It was even funnier because while they had different riding styles, Scott and Jeremy would always cheer for and respect each other's hard work on the water and in competition!"
JK: You know what the biggest thing I respected Scott for? He had a little girl, and I thought, 'Wow, he's young to have a kid'. He'd bring her to tournaments, he'd talk about her & loved that little girl. I swear to you, I remember thinking that he's a standup guy & his little girl is the most important thing to him. I just remember thinking that when I'm a father, that's the way I'm going to be.
People think about all the BS that wasn't even there, and eventually I just couldn't take it. I should have been stronger, but it seemed that everything was targeted against me. Then the New Crew came in & they were having fun with it. They knew how to get under my skin, they just kept pecking away & so did the Magazine. Finally, I was like, "that's it"
WHF: OK, let's switch gears for a moment. When you weren't preparing for a competition or doing a training session, what was your normal routine on the water?
JK: When I was training for tournaments, which was from the first Pro Tour stop in April until  the Worlds in October, every day would be spent on the water.  That's all I did. I'd load up my boat in the morning, drive out to Okeeheelee Park and train all day. I'd spend my time putting together different runs, and just doing run after run. I'd also do different segments of the run. If I didn't feel confident on a mobe, I'd do the trick before and the trick after, and do those three tricks over and over. Whenever on the water, I was training. When it wasn't tournament season, that's when I'd try to invent or learn new tricks. Once in a while, Jeff Heer and I would go down the canal with our wakeboards and have some fun. We didn't live on a lake, we had Mike Ferraro's lake, a lake in Lantana or Okeeheelee Park. Once I left my house it was time to train. I didn't free-ride as much as the other people, 95% of the time on the water was business.
There were times, and I wish there were more, that I had the opportunity to do what a lot of the other guys were doing; getting together, soul riding and having a good time. It's weird I never really got to do much of that. I would go to parties, socialize and have fun, but it was never on the water. Skiers and riders who lived and trained in West Palm Beach typically didn't live on the water. In Orlando, everyone seemed to live on the water. So they easily had the opportunity and access to just go out and ride, have fun and play around. For me, it was one of the reasons I loved doing photo shoots, because I didn't have to do runs or be in "training mode". I'd do one trick as big as I could and express the fun side of myself. I had a blast.
WHF: Besides Connelly & Iconn, is there any other board company you rode for?
JK: 1993 was my very first contract and it was with Duvall skis, but the company only lasted for one year. Then Connelly contacted me, and I rode for them from 1994-1996. Pat and Matt Connelly sold the company and started Iconn, and I loved Matt. He treated me really well. When he asked me if I'd jump ship, I didn't have to think about it, it was a given.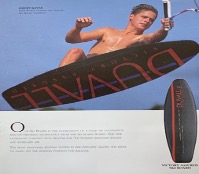 WHF: What was your favorite board & binding set up out of the three companies you rode for?
JK: By a long shot, my Iconn pro model in 1997 was my favorite. That was the best board I ever rode.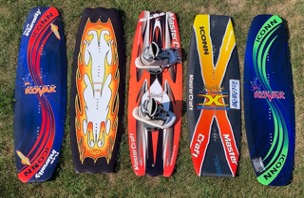 WHF: What was your riding setup? Rope length, boat speed, etc?
JK: Back then, my speed was 23.5-24mph with a rope length of 75ft.
WHF: Probably the most infamous quote that you're known for in an interview is, "Why would I grab my board if it's already attached to my feet?". Can you clarify what you meant by that?
JK: I never knew that's what people remembered me by, but believe it or not, I do remember saying that. Here's the thing, grabbing came from skateboarding because they needed to. In wakeboarding, the board is attached to our feet, so in my eyes, why would I go easier so I could grab the board when I don't have to? Instead, I thought I can charge hard, not grab the board & take a trick twice as big. At the time, it just didn't make sense to me. Over time, I finally got my head wrapped around the idea of grabbing & I'll be the first to admit that it took a year or two to swallow, that it did look pretty cool. I don't disregard it & I'm not going to say I was right for saying it, but at the time I couldn't understand it.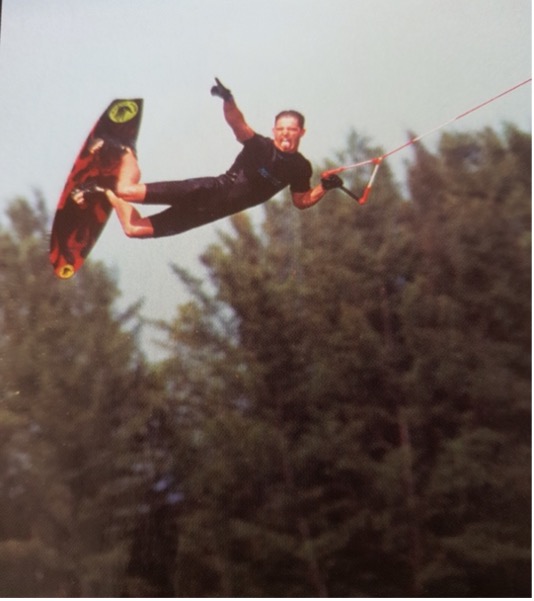 WHF: When you arrived at a contest site, what was your routine?
JK: The biggest thing was I would try not to think about it. I just put my gear down in the rider's area, then just roam around and talk to people. Once our event started, I'd keep my eye on the dock and when it was about three to four riders before me, I'd get changed and in my head would go through my run two or three times. To deal with the butterflies, when the rider before me left the dock, I dove in the water. That seemed to get rid of all my butterflies.
WHF: Was there ever a time you doubted yourself standing on the dock right before you were ready to ride?
JK: Absolutely! It was in the period after I blew my knee out. You asked me earlier what was the most important tournament I ever won, and I said the X-Games, but it's not. It's actually the 1999 Pro Tour Stop in Abbottsford. I just wish people could have felt what was going through my body & my head when I won. The excitement & relief is something I can't explain. Any athlete that has dealt with a serious injury probably can relate to wha I'm saying. Because for two years, I had nightmares about whether or not, I could ever wakeboard again. I really doubted if I could comeback from this.
I trained really hard but missed the first couple of Tour Stops. My first competition back was the Sacramento Tour Stop, and since I'd missed the previous season, I had to go through qualifying on Friday. It's just friends and family, along with some local people & the same routine. Everyone rides, no one is really paying attention, and everyone is just doing their thing. I get on the dock as the boat is coming to pick me up, and every single person walked to the shoreline. And I know what's going through their minds. 'Does he still have it, is he back, or is he done?'. I know that's been the talk, so the pressure that I felt was so overwhelming that I just had to tell myself to go out and do what I do every single day.
I do my first pass, it's the easier of the two passes. But on my second trick on the second pass, I fell on a nothing move. It was like heel side shifty 180, and I didn't qualify for the Finals. Everyone is looking at me and I'm literally spinning in my head, saying, "What just happened? I can't believe it!"
Now I have to spend a week in a motorhome, and wait for the Portland stop the following weekend. The exact same thing happens! I go out in the prelims and people start coming to the shoreline and I fell on a front flip. Now this is two in a row and everybody is saying, "Yep, he's done. He's washed up". At this point, I even told myself that I was done. Try to live with that. Being on top the world one year, coming back to your own sport and now everyone's saying you're done. I've been training every day and I'm riding really well so I know what I can do, but it's that whole thing about being confident that I was talking about before. I had lost my mojo, whatever that means, I lost it and I didn't  know what to do. Now, I'm officially second-guessing myself, believing that I'm washed up and done.
We move on to Abbottsford, and I'm by myself in the pavilion away from others so I can think and get my head together. This is just the prelims, it's not even my hard run and I'm telling myself to just go out there and stand up. As I'm going through this, Herb OBrien walks up to me and says, "Kid, I've got a case of beer on you. Quit screwing around, go out there and show these boys what's up!" And that's all I needed to hear. To know that Herb believed in me that much, and having him watch me, it was like having Mike Ferraro there. I couldn't let him down. I did enough to qualify for the semis and a lot of the pressure is off. I'm now thinking, do I do my hard stuff? Because previously, I could stand up my run that would put me top seed in the Finals or close to it. But after the semis, I made it in by the skin of my teeth & qualified tenth. Meaning, I'd be first off the dock. Now I have nothing to lose, I'm going to throw everything down and that's the ru you saw in Abbottsford. When they announced that I won, it was the biggest moment of my life at that time.
WHF: You invented the Slowball. You were also the first rider to take back mobes big & into the flats.  What was your favorite, and least favorite trick to throw?
JK: My favorite trick, feeling wise, was probably the S-bend. I know that's not what riders like to hear, but to me the height and sensation of flying is unreal. Just like a Raley, where you just sit and hold it. It was such a cool feeling. But if you ask me what trick I'd like to be known for, it's my back mobe and mobe 5's. I believe that's what put me on the map.
My least favorite trick was the Whirlybird. I liked doing Whirly 5's, but Whirlybirds were always hard on the landings for me. After I blew my knee out for the first time on a heelside front flip, there was about three times when I landed stiff legged and thought I blew my knee again.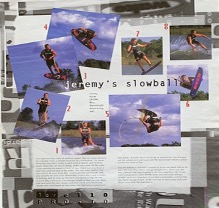 WHF: Who were the people that impacted your career the most?
JK: For wakeboarding, it was definitely Mike Ferraro & Jeff Heer. Mike took me under his wing & never charged me a penny. He just saw this kid who was talented and before his students came in the morning, I trained with him. After I was done with him, I'd meet up with Jeff, and we'd go ride the rest of the day.
That was for the first couple of years, then Jeff & I would just ride, and Mike would come out and keep an eye on us. Because like in any sport, it's mainly mental, and a lot of the riders were good and could do the same tricks that I could do, but they didn't have the mental confidence to put it together consistently when it counted. And I don't know what it was but when Mike was either in the boat or just around me, I didn't mess up. He knew my riding so well that even when I was struggling on a trick, I could call him up and he'd say, "quit thinking and just do this". Now, he might tell you or another rider something different because it wasn't right for anyone else. But he knew my riding so well that it gave me so much confidence when he was around. He had that gift that allowed him to connect & communicate with a rider so effectively. Mike wasn't a waterski coach and he wasn't a wakeboard coach. He was just a coach. He had a gift. He was almost an idol to me, and even though we haven't talked to each other in ages, I'd be there for him if he ever needed me. It was the same with Jeff. He got to know my riding so well, and was a great coach himself. Mike and Jeff were my two guys.
WHF: Is there a specific rider who you really admired?
JK: I admired a lot of people. I admired Darin for his energy & how powerful he was. Shaun Murray was so positive and such a good guy. But Parks was probably the guy I admired  the most. He was full of energy and never played it safe. He always threw it down. The way he rode, the stuff he did and that he gave 100%. I started to think that he was invincible. Like he was made of rubber and never got hurt. He was a great friend. We rode for Connelly at the same time so he was like the little brother that came up & started kicking everyone's butt. He was an inspiration for sure.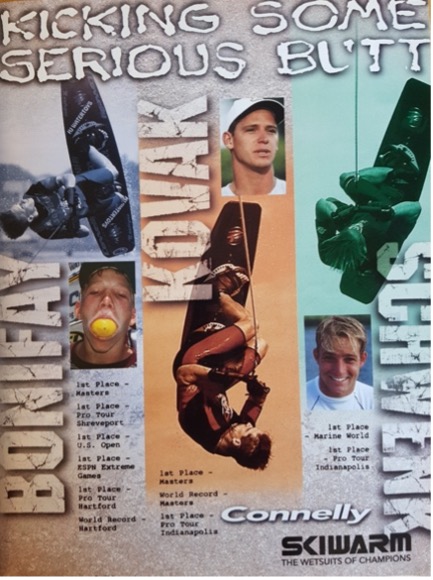 WHF: Knowing what you know now, if you could go back and give yourself some advice, what would it be?
JK: I would have trained just as hard, but I would have loosened my tie up in a sense. I know I'm being a little hypocritical about this, but I would not have been so concerned about having to be on top & just taken more chances. Even though I was stubborn & saying this is who I am, looking back I can say, "Yeah, you were a bit uptight, you idiot". I still wouldn't have gotten tattoos and piercings but I would've loosened up a bit & fit in more. Outside of that, I'd still be me.
If I had to redo it again, I wouldn't focus on any negative. I'd turn any negative into a positive, and just focus on the positive. Any great athlete, no matter where they go, have someone who doesn't like them & will try to take them down. The greatest athletes have learned to just ignore those people because they realize that those people are everywhere
WHF: What moment in your career are you most proud of?
JK: To pinpoint one, it was for sure Abbottsford in 1999. Just to know that I still had it & was still able to do it. But on an overall scale, I have a little wall upstairs in our house with some of the trophies, etc., like the HoneyComb cereal box. That was a real special moment to be on the box. Just seeing that every now and then, I mean I know I'm not that guy anymore, but to know that I was somebody in a sport, it's a proud feeling. But it's more like a memory now.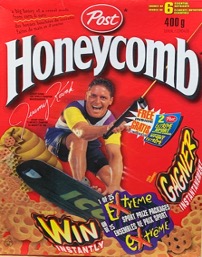 WHF: After blowing out your knee in 1998, you battled back in 1999, throwing one of the biggest tournament runs I've ever seen to take the win in Abbotsford. But shortly after that, you made the decision to retire from the sport. What led to that decision?
JK: The entire competition format had changed from point value per trick to everything being subjective. So, at the Detroit Pro Tour Stop the following year in May of 2000, I basically did my same run that won Abbottsford at the end of the previous year, and stomped it. On the double up, I did an osmosis 5, hit the sliders, everything I needed to do. I come back to the dock & Shaun Murray says jokingly, "Bud, do you ever go away?". Parks & everyone else came up and start congratulating me like I was going to win again. So, I'm getting excited & they start to announce the results. I hear my name in 8th place & Parks looked at me & went, "Oh my God, dude. You got to do something about this. That's not cool man!"
Because of all the stuff that was going down with Wakeboarding Magazine, the New Crew & them getting to me, this was the straw that broke the camel's back. So, when that happened, I was so distraught & internally mad, I just calmly packed my bags, walked over and shook the hands of the guys I'd been riding with for so many years & just said, "Guys, it's been great, I had a good ride & enjoy your journey." I left, never once looked back & never looked at another magazine. It was just because I was bitter. That was the pinnacle of my anger, and it wasn't fun anymore. It had gone past the point of messing with someone's career. The wrong judge gets in the boat, they're going to crush me & there's nothing I could do about it.
I didn't even tell Britt that I was quitting until about a couple of hours into the drive home because we were heading to Canada from Detroit. I couldn't even talk because I was so mentally bothered by everything. I felt that I had done everything in my life to try to be the best role model, to treat people well, to ride as hard as I could & just do everything right. And the more "right" I tried to be, the more I got criticized for it. If that makes sense?
WHF: How do you want to be remembered in the sport?
JK: I don't want to be remembered as the guy that "The Magazine" portrayed me to be. I would love to be remembered as someone that was a good guy, rode hard, a great rider and people respected. I don't want people walking away & remembering me in my last year, being bitter with everything that was going on. I want to be remembered as the guy for the first seven years of my career. The guy that was happy, full of energy, rode great and known to be one of the greatest wakeboarders of that time.
WHF: Anyone who you'd like to thank?
JK: There's a lot of people because when you're in a sport, it's like your second family. Mike Ferraro & Jeff Heer, obviously! My sponsors. Matt Connelly was one of my best friends, who helped me in the business, and on a personal level. My wife, Britt! She put up wit my BS, drove for me and supported me in everything I did. Obviously, my teammates like Shannon Best, Zane Schwenk, Dave Briscoe & that whole team. We spent every weekend together & did everything together. We were idiots, but we had fun doing it and they are pretty special to me.
And finally, my parents are at the very top of the list, especially my dad. He got me into it and drove for me every day when I was a kid. Even when he couldn't afford it, he gave me his truck & boat when I was 17, let me take it to Florida & rented a house for me so I could train. When he legitimately couldn't afford it but wanted the best for me and allowed me to do it. My parents are definitely number one for sure.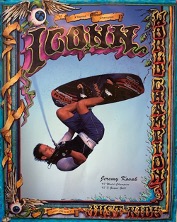 WHF: Thank you very much, Jeremy! We really appreciate you taking the time to go down memory lane with us & share your insights with the wakeboard community. Our best regards to you & your family!
About the Interviewer: Ryan Shimabukuro was born and raised in Hawaii. He is an avid wakeboarder currently living in Utah with his wife. Ryan has judged at the professional level, including the Gravity Games, U.S. Pro Tour and Malibu Open.