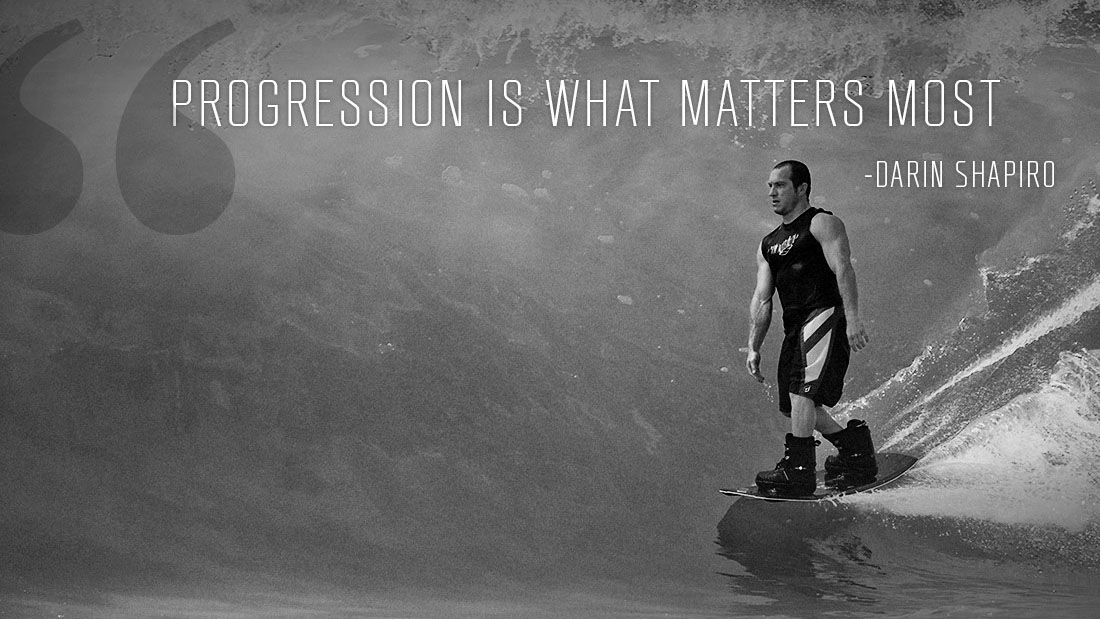 24 Nov

Darin Shapiro Interview

I have been very fortunate to know Darin since he first strapped on a wakeboard down in West Palm Beach, FL. His drive and determination have been instrumental in the evolution of the sport and inspirational to all of us. Below is a short interview with the Legend himself. Here it is in his own words! The Darin Shapiro Story:

(WHOF)  Darin it has been an incredible ride for you since the very early days in West Palm Beach, Florida. Go back with us to your very very early years as a three-event skier training with Mike Ferraro and Chet Raley at the Top Gun training center and what your day to day life was like back then.

(DS) Well, there was no such thing as a wakeboard or even a skiboard back then. I was around 13 years old and I would have my mom drop me off there. Those guys pretty much tortured me as a little kid. I was surrounded by world class athletes and I was just a local kid who had spent a couple of years at Ski Rixen with Kai Fusser. Ferarro had come to the cable a couple of times which is where I asked him if I could come ski with him and the "top gun" skiers and he said "NO!" Eventually, Kai brought me out there to ski at Mike's lakes. For a while I was the worst kid out there! I have to hand it to Mike, even when I was a little pain in the butt he still included me in so many things and made me feel like I could do anything.

(WHOF) At Brita's cable at Quiet Waters Park, you did all kinds of crazy stuff with the crew. How did the two different environments work together to form your style?

(DS) I pretty much rode my trick ski around the cable like a wakeboarder hitting little kickers and doing "layouts" around the corners. Chet Raley came out to the cable with me one day and saw a "layout" on a trick ski and said, "hey, what if you tried one of those behind the boat?" I shrugged my shoulders and gave it a shot on my next set behind the boat. Since Chet had pushed me to do that trick I figured I would name it after him. I had no idea people thought that it looked cool at all! I feel like it was the first trick to have set wakeboarding apart from trick skiing. Mike Ferarro was the first person to hand me a wakeboard and said, "hey try this out." He has always been one step ahead of everyone when it comes to "what's next" in our sport and our industry.

(WHOF)  Mike and Chet and Tanguy all had great influence with you in those magic days. You were also being challenged tradionally by the other guys at the facility like Kreg & Jarrett Llewellyn, Jeremy Kovak, and many other world class athletes but you were the one that really took the wakeboard thing seriously. It was a time of choice for many athletes. Abandon the roots that each one of you built from hours and hours of hard work or take on a new unknown role. I was there when you took your first ride and you said to me as we watched Marcus from Germany on an early Hyperlite " I will be the World Champ". Just a week or so later you were on a long long flight to Hawaii to challenge Eric Perez and a cast of other guys for the 2nd World Championships in early 1991. You got edged out by a hair by Eric Perez. How determined were you after that narrow defeat?

(DS) Even after all the years I had put on the cable and waterskiing I instantly felt way more natural on a wakeboard. I grew up surfing and skateboarding not just waterskiing. Choosing to quit skiing and start wake boarding is one of the most unique moments I have experienced in my life, where I was choosing a new path that no one had ever taken and I knew exactly where I was going. Mike was a massive part of developing wake boarding, not for a minute did he ever say anything that resembled being loyal to water skiing, he only was interested in the future.

As far as Hawaii goes… I was 17 at the time, by myself, and was on a trip to Hawaii. It was my very first contest outside of waterskiing and the scene was extremely laid back. I don't think anything could have bothered me at that point. I knew what I wanted. I never felt like there was anything that was going to stand in my way. I was a super confident kid and I believed in myself.

(WHOF)  At the 1994 Worlds in Islamorada, Florida you saw Byerly, Gator, and Rich Goforth on new twin boards that completely re-invented the game again. You came back and started re-vamping your runs and your equipment. What was your strategy to get back on top again and how did things evolve from that experience?

(DS) Watching Gator and Byerly kill it at the 94′ Worlds was pretty cool. Those guys came out of nowhere. It was the first time the sport had found a new direction since its inception. The last I had heard from Byerly was that he was a kneeboarder but was doing some progressive riding on a wakeboard now. Every person who has come along and done something new, original and progressive has inspired me in some way.

(WHOF) You now had a real clear idea of how to win on the Pro Tour and with Mike Ferraro's help you dominated for years and years. In that domination you caught a lot of grief from guys that did not train like you did, did not have a coach, did not get in the gym, or did not pay attention to nutrition. Many of those riders cast some pretty crazy comments in articles and interviews about you but you kept focused on the prize and continued to dominate competitive wake boarding. How hard was it to put up with that stuff?

(DS) Going to the bank on Monday after winning a check on the weekend sure does help you shrug that stuff off. I was winning so much that all of the sudden, winning wasn't cool. I was doing double flips at so many conests that doubles weren't cool. There were times when I felt like there was a whole other side of the sport and media that actually tried to hurt my career. I was in wake boarding for the sport not the media attention. All I wanted to do is to go as big as possible with tricks and progression. I still want our sport to be a boarding sport with excitement and gutsy riding. I'm not sure thats where the sport is right now.

(WHOF)  You tore your ankle up real bad and were out for what many people thought was for good. How did you make the miraculous recovery and what can you tell younger riders that are injured and hear they will never ride again?

(DS) I had 8 different doctors tell me that I would never wakeboard again in 1996. I didn't ride for nearly a year. I went the holistic route after thinking "exploratory surgery" was a bad idea. I met Lynn Teachworth through Shaun Murray and spent about a month seeing him. My ankle want from being the size of a softball to just about normal size and was back riding in around 4 weeks. Lynn did some super deep massage work to my ankle and lower leg. It maybe the most pain I have ever experienced. I recommend always trying anything you can if you're determined and want something bad enough. Surround yourself with the people who are the very best at what they do and get more than one opinion.

(WHOF) Fast forward to today with the family. Your beautiful wife and family have mellowed you greatly and you seem so happy and content. What made you want to compete with the younger riders again and what was the process you took to train for this?

(DS) I honestly had no idea this was coming, competing again was not on my agenda whatsoever. My 5 year old started getting into wakeboarding and through his genuine stoke he completely infected me and the next thing I know we are riding together. Wakeboarding made me feel so good, the air, the water, the wake and the new equipment was just awesome. I just wanted to participate and share the experience with my son Kien. I was feeling blessed to be a part of the events and the "welcome back" pats on the back meant a lot to me.
My main objective was to try and ride "big" and not get hurt. I am 41 so I designed a plan that involved trampoline training, fitness, nutrition and pacing my riding. I would consider the season to be a success with amount of filming we did for "Resurgence" and all of the competing I did without a serious injury.

(WHOF)  You had a special relationship with Herb O'Brien over all these years even when you left Hyperlite. How did this father figure/ mentor of so many shape your life?

(DS) Herb was always just a phone call away. When I was young he would yell at me like you wouldn't believe, respectfully the man was usually right. He helped me understand so much about the industry. Herb would call BS when things were BS and he would also go ever and above to compliment and let you know how much he appreciated you as well.
I love the fact that Herb was so competitive and relentless and pushed everyone around him to do their best and didn't accept anything less. I feel honored to have had a friend/mentor like that. Herb is the ultimate legend of our industry.

(WHOF)  In closing, you have been so influential to so many of us in the industry and on the water for years and years. We are so proud of your accomplishments as a wakeboarder and a family man. We are excited to see the next chapter and hold on to the handle with you. Thanks for the continuing memories.

(DS) I'd like to thank Herb O'Brien, Mike Ferraro, Eddie Roberts, Paul O'Brien, Tommy Phillips, Tanguy Bennett, Chet Raley, Bill Porter and many others who have in the past and in the future will continue to enjoy the ride with my family and I. Thank you Heather, Kien, and Kai'a for all of the love and inspiration a guy could ever hope for.