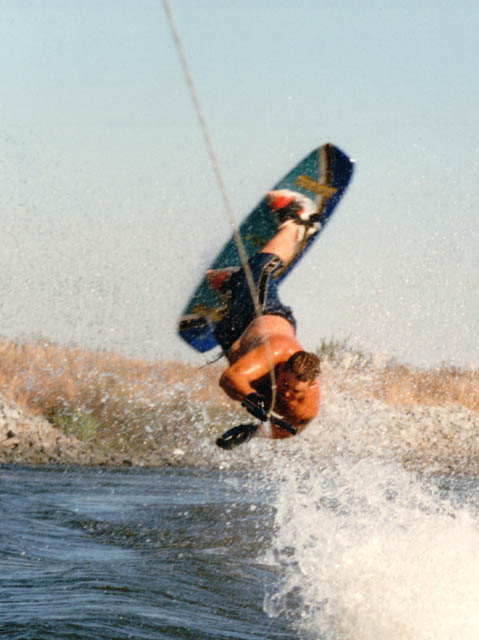 06 Dec

Jason Buffalow – Executive Bio

I started in my early years waterskiing, tubing, disking and hanging out with my
family at Lake Berryessa in Northern California. I have been a water lover since learning to swim and
being in water is one of my favorite things in life. In 1994 I was introduced to the skurfer and
wakeboarding and fell in love. I had found my true calling which included my love of the water with
the challenge of this new sport.

The early years were about me learning how to flip and spin on whatever the latest and greatest
board was coming out. From the Flight 69 to the Best board to the T2. As a large and aggressive
rider, I was breaking boards faster than I could get my hands on them. I am and was one of the
largest riders to flip and spin on a wakeboard so I never fit the standard mold of an advanced rider.
As I was breaking equipment I started meeting industry reps, shops, and manufacturers to see if any
or all of them could help build a board I was not breaking. In 1995 I bought one of the first Tige V-
drive boats and my world had opened up to great possibilities. That year I designed a tower with a
friend after seeing the Natique FCT and towed it up to Lake Shasta for Boardstock. We were able to
tow and meet some of the greatest wakeboards there was including Murray, Parks and Byerly. From
there I had a whole new set of contacts to find a board I could not break and help spread the
wakeboard love.

The next decade or so I was heavily involved in promoting the sport and riders in California. I helped
several riders like Mike Schwenne and Chris Dykmans with trainings, sponsorships, media coverage
and support. I learned how to take photos to promote them and started submitting shots of all the
Northern California riders to he magazines. I started getting a fair amount of coverage for the West
Coast and even having manufacturers using my work with our riders to spread their brand. The next
step for me was to create videos to promote our area and our riders. With the help of Rich Dykmans
we created Delta Sessions #1 which featured the stylish riders of the delta. We followed this up a few
years later with Delta Sessions #2, which included some pro riders like Sean O'Brien, JD Webb, and
Aaron Rathy. The videos were to the core of what I love about wakeboarding, water+style+delta
lifestyle.

During this time I also worked with groups like CIE and Delta riders association to do tournaments all over Northern California. We were able to create good size events filled with people passionate about
the sport. We were fortunate to see riders like Mike Schwenne, Brady Sammons, Trevor Mauer, the
Twelkers, and the Peytons in the early days as young men, evolving week to week.
Over the last 6-7 years I have been working with Hyperlite and MB Boats. I have been the
photographer for MB for the time and helped with website and promotions.
Over the last 2-3 years I have been riding more than ever behind my Mb and have re-sparked my
passion. I have a great group that rides in the Delta and now my family has joined me to enjoy the
water. I get to share my stoke with my kids and watch them want to progress their riding like I have
for two decades. I am so blessed to have wife over the last 24 years that have supported my crazy
addiction of wakeboarding and now to have the kids be involved is amazing.

I am so stoked and honored to be a part of Wakeboarding Hall of Fame. I still look up to all the riders
that paved the way for us and it is amazing talking with a guy like Shannon Best that was one of my
wake hero's. I watched thousands of hours of videos and poured over thousand of magazines
following these riders so to have it come to real life is amazing. The board of directors here is filled
with people that are still as passionate about watersports as I am. We are all here to honor and
preserve our pioneers and create a detailed and accurate history of this great sport.