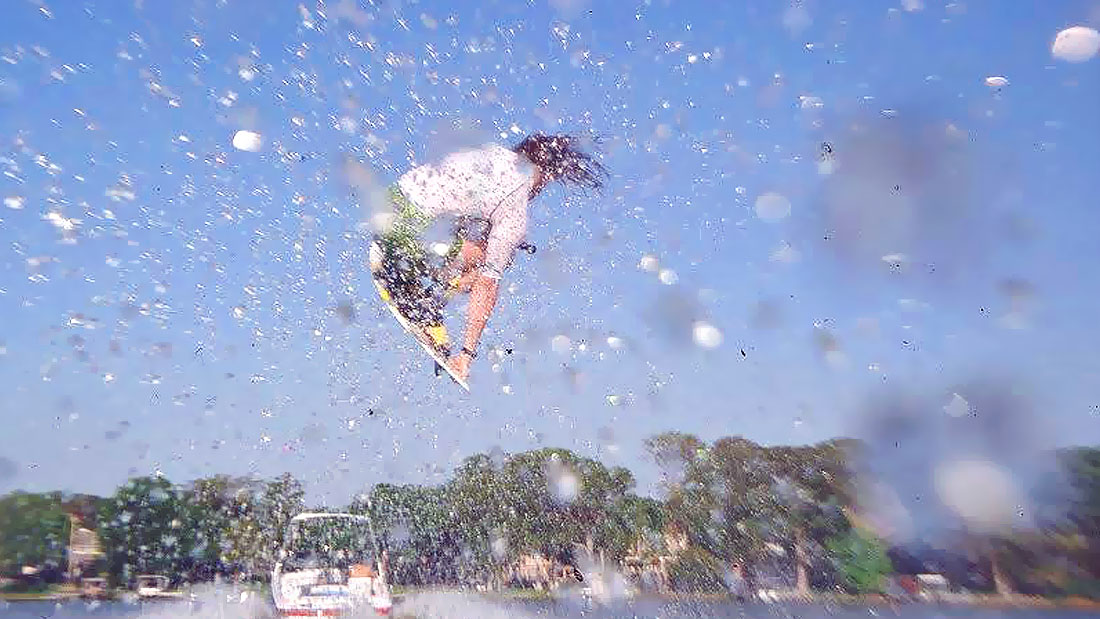 30 Dec

Dana Preble Interview

Dana Preble Interview for the Wakeboarding Hall of Fame
December, 2014

(WHOF) Dana, take us back to the beginning of your wake career and where you started?

(DP) I started waterskiing on Klinger Lake in Michigan when I was 3 years old. From that time on, I spent just about all day every day of the summer playing on the water. With family and friends, we did everything from slalom, trick, tubing, kneeboarding, and the "disc" to new and inventive activities. We began toying with a homemade ramp, skiing on canoe paddles, and made a backwards slalom ski just to name a few.

I began competing in three-event competitions at about age 12. In 1991, I enrolled at Rollins College in Winter Park, FL with the water ski team being one of my main priorities. Of course, there was no such thing as a wakeboard at that time. However, we spent a lot of time playing around on the skurfer! I was fortunate to have Kidder as my ski sponsor and during my sophomore year Denny Kidder sent me what he called a "water board" to test out. I loved it immediately and was doing tricks including flips in no time. I trained with Russell Gay and a house full of "enthusiastic guys" that summer. They pushed me to do anything remotely possible on the "water board", and being an aggressive and adventurous person, I listened to them. We had so much fun and ridiculously great times – young and fearless! Before I knew it, I was on the starting dock at the Cypress Gardens Pro Tour Stop. It was a three-event ski and wakeboard tournament. I was the only and first girl to ever compete in wakeboarding and was up against the men. Little did I know that was the beginning of a new career and life long passion.

(WHOF) Who were your early heroes?

(DP) Growing up, ALL of the top professional water-skiers from the 80's were my heroes because my dream was to be a professional water-skier. Looking back, it seems so funny because I ended up competing at the same tournaments and became friends with most of them! Dreams can come true.

However, Russell Gay would be my true hero! He took me "under his wing" when I was 17. He made it possible for me to move from Pittsburgh to Orlando when I was only 17 to train year-round. He helped me advance my skiing greatly and sharpened my boat driving skills. Dedicated and always ready to get on the water, he coached and mentored me for the rest of my career. Russell was one of the first and greatest men to ride a wakeboard, and I always wanted to follow in his footsteps.

(WHOF) What year and what event did you first enter?

(DP) My first event was during the glorious summer of 1993 at the Cypress Gardens Pro Tour Stop. Although it was intimidating to be the first woman ever to compete, I had lots of support from the guys I trained with. I can't remember exactly where I placed, but I did quite well against the men. It may have been 14th?

(WHOF) What were the challenges of being one of the female pioneers of wake?

(DP) The biggest challenge was the fact that women's wakeboarding didn't exist. I had to compete against the men in the beginning until a couple other girls and I started promoting women. Even then, it was a tough challenge and difficult to be taken seriously. After a lot of tenacity and negotiating with the event organizers, we had a separate women's division, but without prize money. So, Andrea Gaytan and I set out to raise prize money for the women by ourselves. We also recruited women to compete since there weren't very many of us stepping up to the challenge. Eventually, and I mean years later, the tour gave us a very small amount of prize money.

I had come from the waterski side of the sport. There was a huge separation between skiers and wakeboarders. As a three-eventer AND wakeboarder, I was caught in the middle. While still friends with skiers and supporting skiing, my passion was wakeboarding! The riders that came straight into wakeboarding made it difficult for me to fit into the sport initially. Unfortunately, it caused a lot of problems with judging, sponsorship, and friendships!

For a couple of years, I was three-event skiing and wakeboarding, so it was extremely difficult to train in all four events. I was riding or skiing four or five times a day that eventually led to total exhaustion and injuries. I believe it was 1996 when I won all three ski events at the Nationals and then went on to win the Wakeboard Nationals. At that point, I decided to hang up my skis and wakeboard exclusively!

The question of how to make wakeboarding a career and support myself was a challenge for sure. I had just graduated from college when wakeboarding took off. I needed to support myself, but wanted to wakeboard full time. Instead of beginning a career using my degree, I had random jobs that allowed me to train. Russel's brand, MasterLine, gave me a position in marketing and sales that also allowed me to train and be involved in the industry. In the meantime, I was promoting myself and approaching potential sponsors for more financial help. MasterCraft Boats and Blind Side Wakeboards were my main and wonderful sponsors that helped me tremendously. With their support and several other smaller sponsors, I made enough money to wakeboard full time. That was a great day!!!

(WHOF) Take us through your decision making on new tricks that you learned and how you prepared your runs? Who was your biggest rival?

(DP) I initially learned the basic inverts and spins. After that, I was on a mission to learn Air Raley, which was a bit painful but worth it. After being the first girl to land a Raley, I quickly realized I could really push myself to land many more tricks that only the guys were doing. So, I observed the men closely to see what looked possible for me to land. I'd pick a new trick or two and work on it until I got it. I put my runs together so they flowed and could fit into one pass with a combination of inverts, grabs, and spins. One pass always started with a big Raley. From there, I would do all the tricks I could do absolutely consistently and new tricks at the end. I always had a good, huge double up planned at the end. My biggest rivals were Tara Hamilton and Andrea Gaytan. They were both great riders with different styles and personalities!

(WHOF) Your sponsors played a big part of your wakeboarding career. Tell us how you worked with them and who you sought out?

(DP) My sponsors were SO important – I could never have ridden professionally without them! Initially, a lot of board companies were approaching me. I decided to stay loyal to my current ski sponsor, Kidder (Blindside). Besides boards, I sought after sponsors until I created a name for myself and the women of wakeboarding. For me, sponsorship was more than just using their equipment and products. It meant riding in all tournaments, participating in as many photo shoots as possible, attending boat shows, trade shows, teaching clinics and lessons, prepress, and exhibitions.

Blind Side was my primary board sponsor. I helped them shape boards and came up with new ideas from day one. I worked closely with them to make my Dana Preble Pro Model. Many times, I was on the end of the dock myself with a saw and some type of sealant. It was fun and turned into an awesome board! Besides that, I traveled a lot constantly promoting their boards and working with sales, marketing, and R&D.

MasterCraft was one of my essential sponsors, as they provided me with a new boat every year. I loved my X-Stars and helped them come up with new ideas every year. The greatest project with them was creating a ballast system. When I started riding, I put sand bags, lead weights, even a cement table in the back of the boat to create bigger wakes. Then, the fat sack was invented, which made things easier. Finally, MasterCraft came up with the possibility of actually creating the ballast system – genius. There was also the Skylon/Ten Foot Pole, which eventually became the tower.

I had a sponsor for just about everything I would use or wear on a daily basis. G-Bolt Fins, Flojos shoes, MasterLine Ropes and Handles, Point Conception swim suits, wetsuits, sunglasses, and even Gravity Skateboards to name a few. They spoiled me with the latest and greatest of their products and equipment. Have to say, I sure do miss that. I'm still so grateful for all of my sponsors throughout the years!

(WHOF) What was the best thing about being a pioneer of our sport?

(DP) It has been great to watch the sport grow with all the incredible changes throughout the years. To watch the girls ride at the level they do is awesome. So proud of the girls! I especially love that they are acknowledged, respected, and have a division of their very own. I also look back and see how lucky I was to be able to travel all over the world so easily before 9-11. I had the opportunity to meet wonderful people all over the world, and so many people welcomed me in their towns, lakes, shops, and homes. There was always an adventure, and usually an amazing experience!