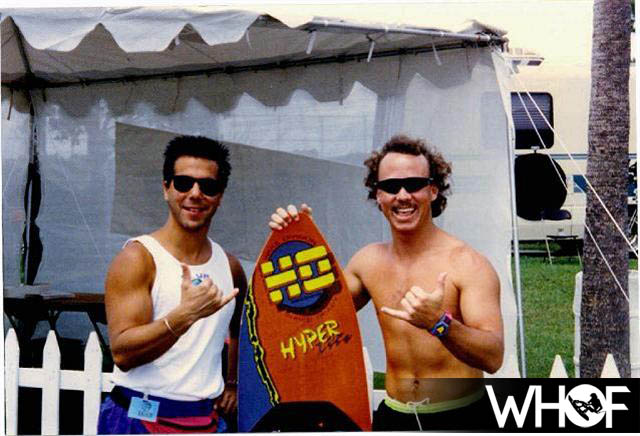 12 Jan

The Eric Perez Story

The Eric Perez Interview by Tommy Phillips –

In 1989-90, while managing my store in Colorado, Tony Finn of Skurfer called me and we talked about taking the sport up a notch with a real televised event for Skiboarding.  We had finished my little backyard event around 1986 at Soda Lake with nine guys on Skurfers and now we have a whole field of competitors from different backgrounds that Tony had brought together with his phenomenal promotional skills.  My girlfriend and I arrived early in Hawaii and we got to meet each competitor and spend quality time with them talking about the sport and what was needed to advance it to the next level.  Eric Perez was really excited about all the new shapes he had was developing with famous surfboard shapers.  Eric gave me a tour of his tiny shed filled with early wakeboard prototypes, raw fiberglass and fins.  I was in awe!

During the practice runs in the newly acquired Ski Nautique, Eric was showing off his new move, "The Blender."  Eric had real style from his surf background and he looked more natural than the other riders.  Off the water Eric stayed to himself and opined rarely unless he was asked crazy questions from yours truly.  During the next few days Eric stayed at the top of the heats.  All the local guys were so proud of Eric and a huge TV camera operator named Moot from ESPN said, "Eric has the Island mojo on his side," and he was confident as we watched the finals from the bridge together.  Eric won the event and there was great excitement all night.

Soon, Eric Perez was on the Water Ski Tour again thanks to Tony Finn getting him more time on the water and he also set up interviews by the local and national news agencies.  This led to more excitement and a personal relationship with Herb O'Brien, where he was eventually able to make his "dream" boards.  Eric went on and won the second World Championships in Hawaii but was de-throned by Darin Shapiro in Colorado Springs at the third Worlds.  Eric took the defeat with honor and began to work on the next generation of boards using a new construction method that would eventually launch a new sport — wakeboarding!

Many years later Eric was bypassed by people half his age at the annual Wake Awards "Legends" ceremony.  He just dug into his creativity more and more and let the scars heal.  Many of us were extremely disappointed that Eric was not even nominated for this is an award he should have owned early.  We at the WHOF know he deserves the Legend Award and we're proud to feature a brief excerpt of his story here.  Look for Eric Perez, "The Flyin Hawaiin" in our brick and mortar location in the future.  We are so proud to bring you this exclusive interview with the Legend himself.  Here is the story of the first World Champion.

(WHOF) Eric, can you remember the tournament in Hawaii where we met? It was the first Skurfer Worlds in Kauai and it was televised by ESPN? Talk us through what led up to that event and what it was like winning the first ever televised World Championship.

(EP) Tommy, I totally remember meeting you at that first contest. I remember you always asking about cheeseburgers and cigarettes, as a joke of course. I think it aired on ESPN or some other sports network at midnight a couple of times. Before the first worlds I was doing exhibitions on the Skurfer at the Pro Water Ski events around the country as well as doing promo videos for Tony Finn & Skurfer. They had an Idea to do a Skurfer Championships. I think the TV network they were working with wanted a better title so they named it the "Skurfer World Championships," if I'm not mistaken. I was living on Kauai so I helped them get permits, crew and a bunch of other stuff to run the event. Winning the first real event was really sweet.

(WHOF) What got you into wakeboarding when you had killer waves in your backyard?

(EP) I was working at night driving tour boats on the Lagoon at a resort. My friend John Bohling who was also a captain had an inboard ski boat. The first time I met him to ski I never did. The reason is that he had a plastic surfboard with straps called a Skurfer. Being a surfer and a skater from an early age, I naturally got on the Skurfer. From that minute on, I was hooked. Every day, I was coming up with new moves and I just couldn't get enough. I still surfed when the waves were good but just knowing I could go down to the river and get an instant fix was addicting. My buddy Doug, a filmmaker and I put together a "thrill craft" to go out in the big surf. It looked like a small jet craft but with an outboard motor on it. It was very dangerous, mechanically speaking. I believe that we were doing the first ever tow-ins anybody had ever done. This was circa 1991. We still have some original 16mm film footage from that day. I know Laird did tow-ins very close to the same time. He was living on Kauai then, as well.

(WHOF) You took me back to your little surf shack and showed me a bunch of prototypes during my stay in Hawaii. Who was your shaping mentor and walk us through the process of product development please?

(EP) It wasn't long after riding the heavy plastic boards that I realized they kind of sucked. My older brother Mario introduced me to Dick Brewer, a legendary surfboard shaper from way back. I hooked up with him and Rick Holt, another surfboard maker on Kauai. We worked together on different designs daily and had a perfect set up for building and testing board shapes and fin designs.

(WHOF) I was so excited after going through that little shack that I called Herb and told him about you as soon as I could. What was your relationship like with Herb O'Brien?

(EP) That's funny Tommy, I wasn't sure it was you that told Herb about me. I think it might have been the day after the first Worlds. I got a message on my answering machine. "Eric this is Herb O'Brien, how would you like to build a board with us?" Within a week I was at the HO Sports factory in Washington going over designs with Herb. I instantly felt like part of the HO family.

(WHOF) The second Hawaii tournament you were able to nip out some new exciting riders that just popped on the scene. How fast was the sport evolving then?

(EP) Yea, Darin Shapiro was in that one. He was the stand out. Good thing I had the home court advantage of the Wailua River. Other riders were getting better but it was still the ancient times as far as talent compared to today's riders.

(WHOF) As your partnership with Herb grew you guys came up with the compression-molded board that would change the industry. You two also worked together on a video that was the first sales video for compression-molded boards. How much did you have to do with the production of that video?

(EP) Herb and I pretty much started working on the first compression molded board design from our first meeting. I was coming from a surfing/skateboarding background and he was coming from a water ski construction background. He wanted it 3/4" thick and with angles that would let it pull out of the mold. I took those criteria, went back to Kauai and built a working prototype with Rick Holt. After the board was out, Eddie Roberts from HO Sports and I, with input from Herb, produced an informative promo video. The compression-molded board's thin design made it easy for first timers compared to the overly buoyant older designs.

(WHOF) Your first aluminum-topped board was a thing of beauty and is coveted by many today. Do you have any of the prototypes of your early boards? A viewer posted a photo of himself riding one of your early boards on the Wakeboarding Hall of Fame page and we all want to know about the early boards and how you continued to tweak them?

(EP) You are talking about the "Perez" signature board. I originally wanted the aluminum top board to be shiny aluminum like those cool old aircraft or old airstream trailers. Dave and Scott in the HO art department came up with the tropical themed graphic design. Everyone at the factory liked it so we went with that graphic. I might have one or two of the early prototypes in the rafters here somewhere.

(WHOF) The Water Ski Tour invited you ride as an exhibition for a couple of years. You got a lot of coverage for wakeboarding and were a great diplomat for the sport. What was it like being surrounded by all the water-skiers, jumpers and the other knee boarders who were on tour with you? Did they accept you or was it weird?

(EP) It was me, my duffel and a board, just having fun. The pro water-skiers were way cooler to me than you would have thought. Not sure what they thought when I got on the front and back cover of WaterSki Magazine that one issue though. The knee boarders were a band of wild men.

(WHOF) As time went on new faces came into the wakeboarding world. Who inspired you in the early years?

(EP) Cobe Mikacich, and Shaun Murray were rad. I was close to those guys early on. Erik "Gator" Lutgert came out of nowhere and blew my mind. These were the guys that inspired me at the time and eventually they all became wakeboarding stars.

(WHOF) Take us to your present day life. Do you still get out on the water these days?

(EP) My passion and business is film and video production. I live between Kauai and Northern California. Just last week I had a couple good wake skate sessions with 30-year-old Nathaniel Fisher, the 5-year-old rider from the first Hyperlite video.