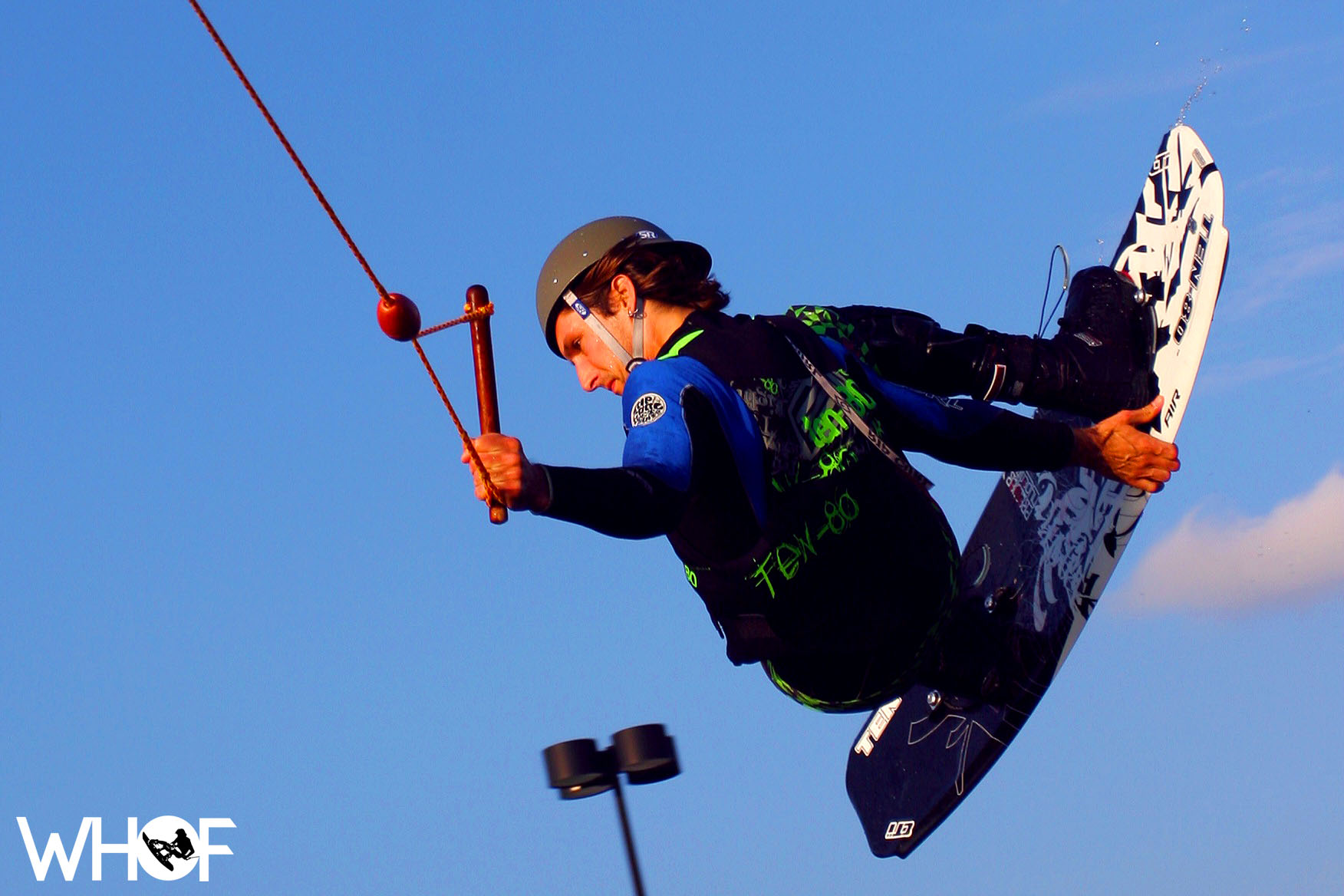 16 Feb

The Donald Shelbrick Interview

[dropcap]D[/dropcap]onald take me back to the very first part of your life in wake. When did you get your first board and where were you riding at the time?

(DS) I grew up in Deerfield Beach Florida right down the street from the well known Ski Rixen. I never knew it existed until a friend of mine invited me to go try it out in the spring of 1994. His parents got him a wakeboard and thought it would be a great way to keep him out of trouble for the summer. It was a one directional Hyperlite board with foot straps and 3 big fins on the back. I spent about an hour trying to get off the dock. Of course it was a Saturday so the lines were super long and if you fell you had to take your board off, swim to the stairs, get out, and wait in line to try it all over again. I eventually got up and rode almost all the way around on my first try making all the corners except one. I was instantly hooked. I wound up spending every day out there that summer borrowing my friend's board and eventually purchasing my own, which was the Darin Shapiro one directional red and black pro model. Wakeboarding immediately became a part of my soul.

(WHOF) Who were your early heroes that you looked up to growing up?

(DS) Well back when I was growing up you couldn't wait for the new issue of wakeboard mag or a new video tape to come out. It wasn't like now with the internet and everything. Videos tapes, magazines or watching your favorite pro's free ride were all you had to learn from. I always looked forward to watching the newest wakeboard video tapes with Scott Byerly, Thomas Horrel, Parks Bonifay, Shaun Murray, Greg Necrasin, Ryan Siebring, Randal Harris, Ricky Gonzalez, Marshal Harrington, Darin Shapiro, Chase Heavner, Jeff Heer, Andy Lazarus, Matt Staker, CC Roberts, Todd Brendal, and Collin Wright riding. They all were so different in style and just made you wanna go out and do what they were doing. Because of these guys and many others I looked up to I aspired to be a pro wakeboarder.

(WHOF) Very few people know of the historic contribution of the South Florida riders like you and Rob Mapp, Shannon, Darin, Shaun Moore and so many others that grew up on the cable at Quiet Waters Park. Tell us about your beginnings riding there and how Brita and the crew shaped your life?

(DS) It's funny when I look back on the whole experience. Pretty crazy to see where I am now and where I came from. I was 13 when I started riding, Shannon Best was an operator at the cable and I was a shy young kid who really didn't know a lot of people. Now I look back on the whole experience and realize that because of Rixen and so many that passed through its doors over the years, it has given me a great foundation for my life and helped mold me into the person I am today. I have learned so much from so many different people who would come ride, work, or just hang out there over the years. I am very thankful for Rixen and the great crew of people past and present for what they have done for me and continue to do for me every time I step out there.

(WHOF) Living in Florida also gave you skate and surf opportunities. Did you bounce between these opportunities?

(DS) Yes. I really love to skate and have always been fascinated with surf. I didn't live close to the beach which made it hard to stay on top of surfing. I lived right across the street from the cable and found that was the easiest and most consistent for me to get to all the time. I have nothing but the highest respect for surf, skate, and snow. Nowadays I take any opportunity I have to ride whatever board I can get on.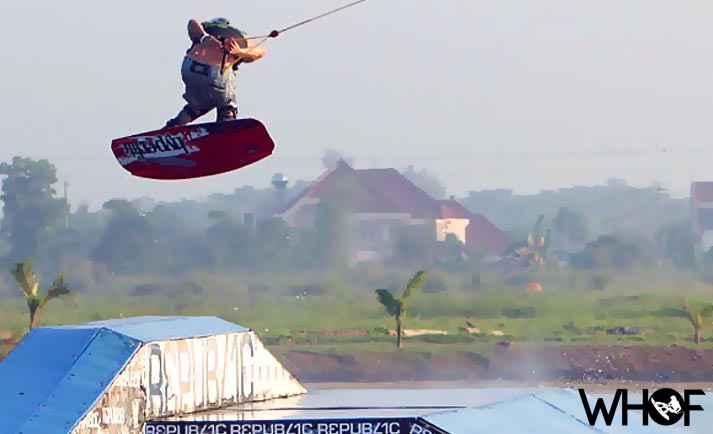 (WHOF) What was your first event in cable you rode? How bout boat? Any Fond memories of either?
(DS) Well the first contest I ever rode was a Tommy's Back Yard Boat Event. It was pretty cool cuz it was only like $20 to enter. You could ride and watch others ride and learn. It was cheaper than paying for boat sets which I couldn't afford. I first met Shawn Watson at one of these contests. It was really cool watching someone do all the things you saw in a wakeboard video right in front of you with such amazing style. He really motivated me to learn more tricks on the boat. He also was always really cool and laid back allowing me to catch sets with him whenever I was up and in his area.
First major event I ever rode was in Germany. Brita, the owner of Ski Rixen, was nice enough to fly myself and Rob Mapp over to the IWWF Wakeboard Worlds in Dusseldorf, Germany. Rob Mapp and I spent 5 weeks on the road there doing clinics, demo's, and hitting the occasional contest. It was here that I really fell in love with the wakepark side of the sport. So many different riders from around the world gathered to participate in something they loved while representing their country. There was no money on the line just medals and respect from your peers. I believe somewhere around 24 different countries showed up and there were more than 50 riders in the pro division alone and over 150 participants at the event. People would camp out in tents all around the cable and by night there were live bands with seas of people like a concert. Was truly one of the most amazing experiences I have ever been a part of and I will never forget it or the people I met there.
First major boat event I ever rode was a WWA Pro Tour stop at Mills Pond 1999. I practiced on a run for a few months with some friends who had boats. I showed up early to the contest and signed up. Just my luck I was put in a heat with Parks Bonifay, Chad Sharp, and Stephan Tranne just to name a few of the insane riders I had to ride against. Right before I took off the dock Darin Shapiro jumped in the boat to watch. Scared out of my mind I went out, stood both my runs only falling on my last trick. I was super stoked on my ride and even more stoked on the fact that Darren Shapiro later told me he and Mike Ferraro were impressed. I wound up taking 3rd in the heat just barely missing the cut to Parks and Chad but was pumped on the overall experience and couldn't wait to try again.
(WHOF) Did you have a coach ever or did you come up with the more difficult tricks by emulating the other greats you were surrounded with?
(DS) When I was about 17 Mike Ferraro saw me ride at a little contest. If you don't know who Mike Ferraro is, He was the the guy for wakeboard coaching. Almost all big name pro's back then and even a lot now will tell you that Mike Ferraro is a major reason why they are able to do what they do. Anyways, Mike asked Tommy Phillips of Tommy's Surf Slalom and Guitar who I was and where I rode. Tommy told him I rode mostly Rixen and was working on getting better on the boat. Mike then asked Tommy to have me call him about maybe doing some sets with him. When Tommy gave me his number I explained to Tommy that I really couldn't afford a coach. Tommy said, "Just give him a ring bud, he'll take care of you". I called Mike and He said "Donald meet me at Okeeheelee Park next Saturday and I'll pull you between sets with other people. Just show up with 5 gallons of gas… I never turn away gas", and so I did. Mike would pull me for gas every time I showed up. About a month later Mike wound up moving to Orlando to open up a wakeboard school up there at the newly opened OWC, but I never forgot his generosity and will always be thankful for his guidance and time.
Learning for me back in the day mostly came from who you could ride with regularly and who would push you outside your comfort zone to learn new things. Great riders like Jimmy Sposato, Rob Mapp, Scott Hussy, Shaun Moore, Brad Federspeil, Keith Lidberg, Chris Law, Shannon Best, & Chad Forrest were just a few I would ride with consistently. Each one of them are amazing riders and I learned a ton from all of them throughout my career. Most the tricks I would learn I would take from the cable to the boat. Tricks like S-bend to blind, air front to blind, and mobes were easier now. Once you were able to figure out the wake, boat speed, and length of the rope you needed to ride at the tricks became very similar and didn't take long to transfer over.

(WHOF) Here is a loaded question brother. Tell us about your sponsors along the way and how important finding supportive sponsors it is for a young rider.
(DS) Sponsors were very hard to get for a wake park rider back then, mostly because the industry didn't really have a market for wakepark riders yet since there were only 2 parks in the US back then (Rixen and North Carlolina). If you wanted to be sponsored and you wanted to be a sponsored professional rider in the States, then you needed to ride boat. My first sponsor was Tommy's Surf Slalom and Guitar and to this day has always been my favorite. Not because they paid me or gave me tons of stuff but because they made me feel like I was a part of a real team. Tommy, the owner, and his wife Nora always took care of me and the other athletes they sponsored. If we needed anything at all they were always willing to help no matter what. They would also do holiday parties with the employees of the shop and athletes, commercials supporting the athletes that supported them, magazine ads with different riders, and if you got hurt they would call and check up on you to make sure you were ok. For me though, it was always about the the feeling of being a part of something great, a team, a family. Tommy's made every athlete they sponsored feel that way and because of that I think a lot of Tommy's riders went on to do great things within our sport. Any rider that rode for Tommy's was and is proud to say they were a part of that team! I have had many sponsors along the way but have always been especially thankful for that one and the support they gave me along the way.
(WHOF) After your injury you started focusing on the WWA and being a very respected judge. How did this evolve?
(DS) After I had my 2nd full reconstructed knee surgery I was introduced to Shannon Starling, President and Co-founder of the WWA, at Expo. Matt Hickman, who was the editor of Wakeboarding Mag, along with Danielle Crawford, Lu Le and myself sat down to talk about the WWA getting involved with wake parks. Shannon spoke to myself and the others about wake parks and how he could see a real future with wakeboarding here. He wanted to start a WWA Wake Park World Series Tour just like the boat. I was very excited about the whole thing and even though I couldn't ride the first stop, I wanted to be as much a part of it as possible. This is what wake park riders needed. A respected name like WWA coming in and bringing a legitimate tour and sponsors to this side of the sport would open a whole new world for wakeboarding. Shannon asked me if I would be interested in judging and helping out until I could ride again. I did and wound up continuing to work with the WWA ever since because I really liked what they were trying to do for the sport and the athletes. I would judge the amateur divisions and ride the Professional ones when I could. I wound up taking 4th place at the first WWA Worlds at CWC later that year and despite missing the first stop I finished 4th place in the over all series rankings. After this first Wake Park World Series season, more and more wakepark riders were getting sponsored by big name companies. Hyperlite even created a wakepark specific team adding riders like Nick Davies, Lior Sofer, Mike Ketellapper, Marc Shuster, and myself to their sponsored athletes on the Hyperlite website. This was the first time a board company openly legitimized wakepark riders as professional athletes to the world. Because of this and many other reasons I continued to ride and judge events with WWA for the next 4 years. Each year I could see more and more legitimacy in wake park riding being given to its athletes by the wakeboard industry and the companies within it. I retired riding professionally at the age of 30. By this time I had 5 knee surgeries and was finding it harder and harder to keep up with these younger guys while maintaining a 40 hour a week job at home. I still ride all the time and judge every WWA sanctioned event I can trying to help grow and support a sport I love and that has given me so much throughout my life.
(WHOF) You have been chosen by all of us on the Wakeboarding Hall of Fame for your insight, riding, and judging abilities as well as your historical contributions. What are your dreams for the WHOF and who do you think deserves to be recognized in the upcoming year?
(DS) First of all thank you for allowing me to be a part of this great team of people who want nothing more than to preserve, protect, and grow something that they love and have donated a portion of their lives to. I have been very excited about WHOF since the first time I heard about it. All I have ever wanted to do in my life is contribute to something great. Maybe leave a footprint somewhere in this big world of ours that says I was here and a part of history. If there is one thing I have learned from traveling it's that I know there are a lot of people out there that want the same things I do. I am extremely happy and excited to know that I have been handed the opportunity to help others who have supported, sacrificed, and helped grow this amazing sport we all love. Not only here in the US, but around the world. Many people deserve the opportunity to tell their story, preserve their history, and leave there footprint next to so many other great pioneers like them. I think WHOF is a great way to help many justified people accomplish their dreams and solidify their contributions to the overall success to this evolving sport.
There are a lot of people who deserve to be recognized for what they have done to help progress this sport. Darin Shapiro, Parks Bonifay, Scott Byerly, Shaun Murray, Tony Finn, Chet Raley, Jimmy Redmon, etc. are all great candidates as are many others to be honored in the upcoming year.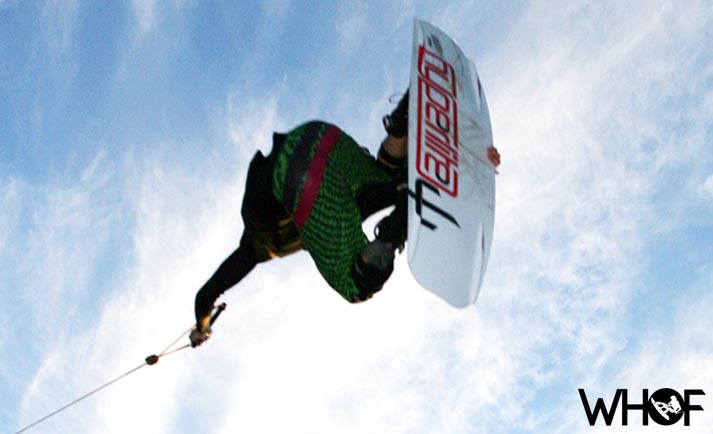 (WHOF) Tell us your involvement in the WWA now and why it is so important to all of us deeply involved in the sport.
(DS) I am currently a WWA Judge for sanctioned WWA pro events. WWA has been promoting & growing the sport of wakeboarding for more than 25 years. It is a "By riders, For riders" sanctioning body that helps us further the progression and growth of this sport. They play a significant role in the direction in which this sport heads. If you think about it, a big part of our sport is molded through contest. A WWA sanctioned event brings a standard of not only its riding, but in how well it is executed in front of a panel of well known and respected peers of the wakeboard community. This is why WWA events typically are "THE" wakeboard events for sponsors to scout up and coming athletes and promote their brands. Athletes of the highest caliber compete in these events because not only do they consistently bring some of the highest prize money purses, but also a great deal of media coverage platforms for athlete and sponsorship exposure throughout the entire world.
(Below is Andrew Adkinson, Donald Shelbrick, and Errol Shuster in Japan airport after an event 2009.)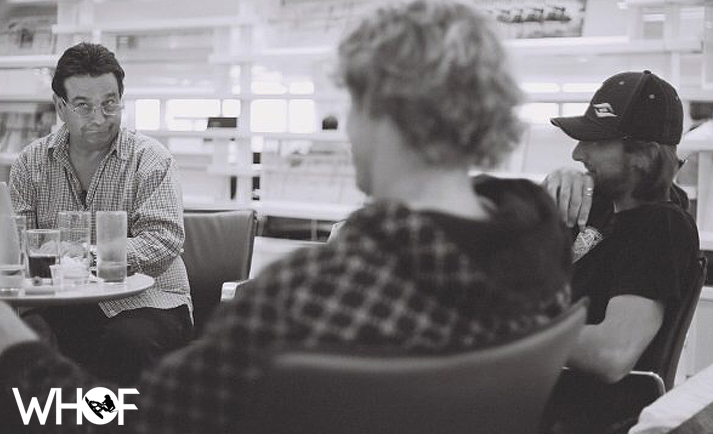 (WHOF) We personally at the Wakeboarding Hall of Fame would like to thank you for your years of support and contributions to this growing sport.. Is there anyone you'd like to thank or mention?
(DS) I could sit here and thank people for hours and still miss someone so in case I do just know how appreciative I am of this whole experience, everyone who has been a part of it and helped me along the way! I do however wanna just say thank you to Paul Biolic, Tom Fooshee, Kyle Reed, TSR, and the rest of my Texas family for all their love and support over the years. Shannon Starling, Rob Corum, Mike McComb, and Corrie Dyer over at the WWA for everything they have done for me and and continue to do for this sport. My Costco family for supporting me for the past 15 years. Lastly my Mom, Dad, brother, and beautiful wife for putting up with all of my injuries and traveling.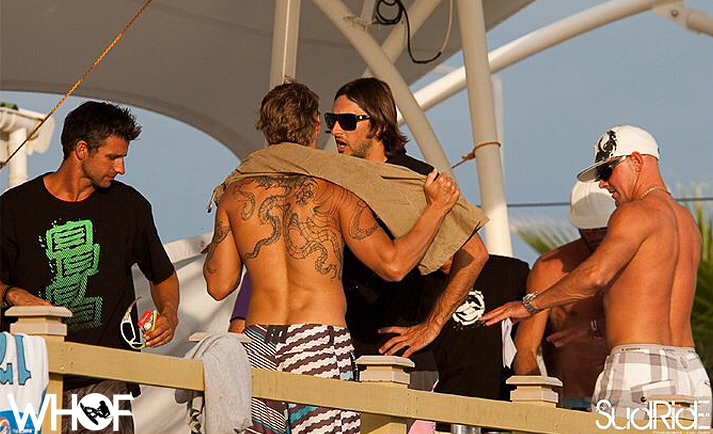 (Donald Shelbrick, Keith Lidberg, Mike McComb, Andreas Voss judging in Turkey for 2010 WWA Wakepark Worlds.)