19 Feb

Gary Warren @ Cypress Gardens 1960s Wakesurfing Pioneer

Wakesurfing has exploded onto the scene in recent years. Today's massive wakes and sport specific equipment have riders doing things nothing short of amazing. The jaw-dropping antics of today are deep rooted in experimentation with the items at hand – going back many decades. The act of using a boat's wake to surf has doubtless been going on for as long as there have been surfboards, boats, and a rope. Surfing icon Duke Kahanmoku has been acclaimed as the "first wakesurfer." Another surfing legend Dewey Weber is said to have done it in the 1950s. I have yet to find solid documentation or photos for any one of the numerous claims before 1960s. As the WHOF embarks on the journey to "Honor and Preserve" we will certainly uncover evidence of wakesurfing that goes back to the earliest days of towed watersports, maybe even the 1910s or 1920s.

The first real media coverage for this "new" sport launched in 1963-1964 when Dick Pope, Sr. started promoting it at Cypress Gardens. Pope was a marketing genius, with his own staff photographers and film crew, large photo boats with masts and booms, and inside connections to mass media outlets that spanned the globe. Pope's early promotions put wakesurfing in the international spotlight for the first time, and surfing behind a boat rode a wave of popularity in dozens of newspapers and magazines like "Boating", "Surfing", "Life", and "Look."

The first important article I've found is the April 1964 issue of "Popular Boating." Dick Pope, Sr. is quoted, "We're boat-surfing down here…wake-surfing or whatever you want to call it." But by that time the sport was already popular enough to have three board manufacturers, as referenced in the July 1964 issue of "Motor Boating" magazine: "Surfboards designed especially for boat-surfing are being made by Pope in Winter Haven, Florida, Hobie in Dana Point, Calif, and Whitehouse Industries, Ft. Worth Texas."

Gary Warren was in the thick of it all as a Californian bred water skier and surfer who made the cross-country trip to Florida to work as a show skier for Dick Pope Sr. at Cypress Gardens.

-Tony Klarich

Feature photo courtesy USA Water Ski Foundation, where Gary is a 2015 recipient of the Award of Distinction

WHOF: Did you ever try wakesurfing before doing it at Cypress Gardens?

GW: My older brother Artie was a competition skier and surfer as I was, he was also a lifeguard at Imperial Beach so we would go surfing a lot during the year up and down the So. Calif. coast. About 1960 we also began towing a surfboard behind our ski boat, at first just skiing and cutting around. Then we tried riding the wake, and ended up doing it when we used a very short line and were almost behind the boat. The wake was not that big so we would load up the boat with people and the wake was perfect for surfing along without the line. We did this for the next few years when the water got too rough for competition practice – it was fun and kept us on the water. I'm sure a few other surfers in California tried this as well, but we were among the first to do this.

WHOF: What year did arrive at Cypress Gardens?

GW: I began working at the Gardens in the fall of 1963 and worked there until May of 1965 when I went to work for McCullough for their traveling ski show. I was in the CG show for two summers in 1965 & 1966.

WHOF: What year was it that Mr. Pope first started experimenting with wakesurfing? Were you at the Gardens when this was going on?

GW: As I recall in early 1964 another California surfer, Dick Scotter, just showed up at the Gardens. I'm not certain if he was an employee or not but he was able to go out anytime and wakesurf. We were among the first to do so. Mr. Pope knew of my surfing background from California and was picking my brain all the time about surfing, I had told him that I had done it years before in California, but I think he wanted it to be a Cypress Gardens invention.

WHOF: Tell us about the famous photo sessions at the gardens?

GW: We were doing surfing shoots almost daily and most of the time we didn't know who or what they were for, it was just picture time and we did it. The Gardens had a picture boat "Miss Cover Girl" that we used for most shoots – it had a great wake for surfing – but we also used regular boats, usually with several people in the boat to increase the wake size.

I did shots for "Life" and "Look" magazines and many ad shots for Jantzen swim & sportswear who I stayed with as a model for 10 years. Some of the others from the Gardens who wakesurfed were Buster MacCalla, Sandy Reynolds, Richard Johnson, Steve File, Barbara Cooper and Joker Osborn.

It was always a good thing to do photo shoots. The ski show rookies (which I was) usually had to menial labor between performances – digging canals, cleaning beaches, all the shit jobs. As a frequent model for Mr. Pope I was always happy to do a photo shoot instead.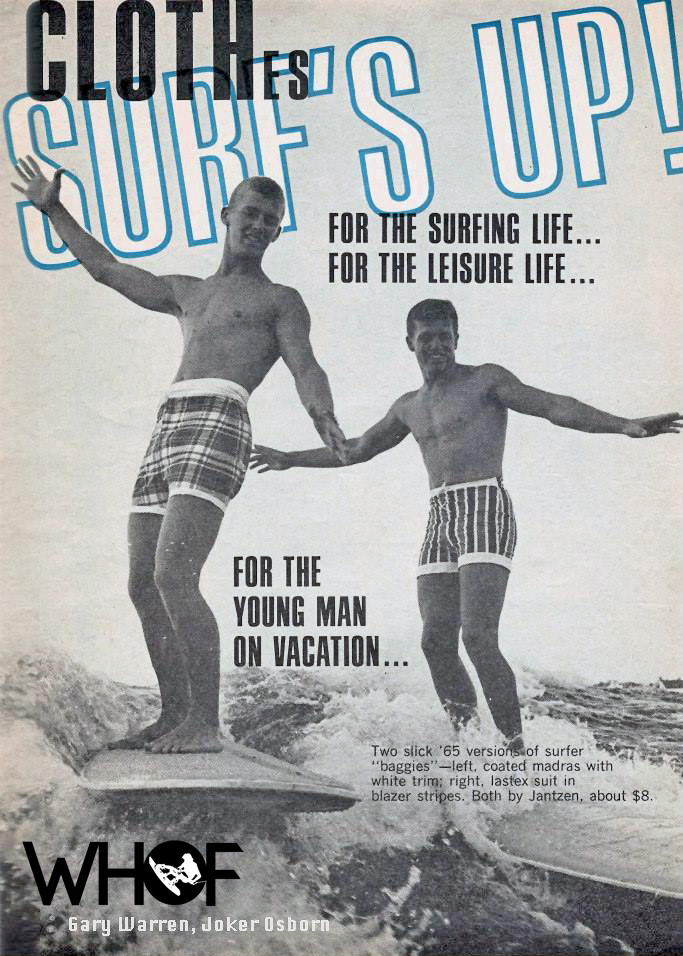 WHOF: What were those early boards like?
GW: Most boards were still pretty big back then, I think the boards we used were regular surfboard sent in from California including Hobie, Gordon & Smith, and Bing. But my favorite ride was not a traditional glass and fiberglass wrapped surfboard. It was shorter, had a hard outer shell, and was foam injected. It was lime green and yellow, very light and I could make turns up and down the wake with it.
WHOF: What were some of your early tricks?
I could ride standard or goofy foot on the boards, do walkaround 360's and tried to hang ten, could stretch for 5 but there just wasn't enough wake for ten.
I often rode with a girl and did various lifts, similar to the doubles act we did in the ski show on traditional skis. We also messed around with multiple riders on the same wake. 5 was the most we ever got, but it was impractical to get that many riders going at once – 4 at one time was fairly easy, and we capitalized on this when the Beatles invaded America in early 1964. Mr. Pope had us wear wigs and jackets so that we resembled the Beatles with 4 of us on a surfboard. He had that shot in papers around the world. I'm certain I have a photo of that around here somewhere…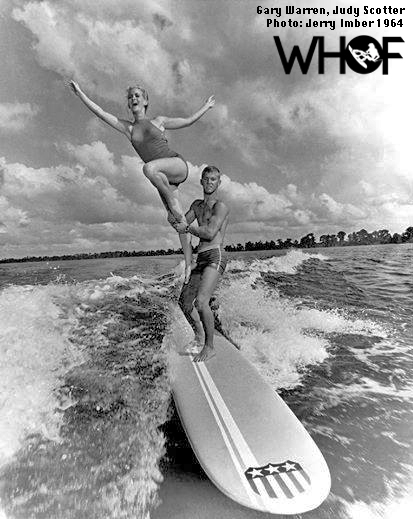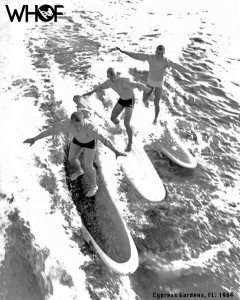 WHOF: You mentioned Hobie boards, and Hobie Alter is another name often brought up in early wakesurfing. His biggest wakesurfing stunt was a long distance ride to Catalina Island off the Los Angeles Coast some time in the 1960s. Can you shed any light on his contributions?
GW: I'm not certain when Hobie did his Catalina stunt, but I remember reading about it in a magazine like "Surfing." On a related note Mr. Pope brought me into his office one day to show me a skateboard film for Hobie – these kids were amazing – jumping over cars and landing on their boards…all long before modern wheels. Shortly after I left the Gardens the Hobie Skateboard Team came out for a wakesurfing session with Joker Osborn.
The 1965 Hobie Skateboard Team stops at Cypress Gardens to Wakesurf: with Danny Bearer (1965 World Champion), Danny Escalante, Dave Hilton (uncle of Paris Hilton), and John Freis.
@ 3:00 Gardens Skier Joker Osborn joins the Hobie Team for 5 riders on 1 board
WHOF: Can you provide a few words on Mr. Pope and how he never missed an opportunity to promote water skiing?
GW: Mr. Pope was a promoter first and foremost, he would spend thousands for free promotion for Florida and Cypress Gardens. He always said that he provided free photos for magazines and newspapers around the world and that made CG a household name everywhere. He had a full time photo staff, the best cameras for his photographers and tied it all in with Kodak…smart, very smart.
WHOF: Do you think the Cypress Gardens push is what brought the sport to national attention?
GW: At least for a while. Guys did it for years before – both surfing with the rope and without the rope. Pope knew it and capitalized. He had everything to take it to the next level. It was tough in those days to get good surf shots in the ocean – waterproof cameras just weren't around like today's GoPros. Mr. Pope knew he could capture the feeling of "real" surfing in a controlled environment. Wakesurfers were a captive audience for photographers just feet away on the CG picture boat.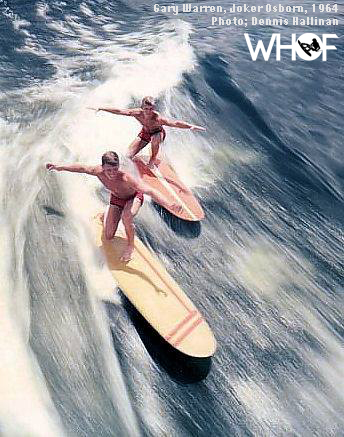 WHOF: Do you know at the time you were helping to a pioneer a "new" sport?
GW: When I got hired at Cypress Gardens I would have skied for free. It ended up being 5½ days week at $55 a week – not bad for the time. We just skied and did photo shoots. Of course we felt like the wakesurfing was something special because of all the media attention. But we got all kinds of press with all kinds of skiing. One big deal that stood out was the wakesurfing in the 1966 movie "Endless Summer." As that movie became a timeless classic it did feel like what we had accomplished at the Gardens had a roll in popularizing wakesurfing to the point it had appeared in a major movie.
WHOF: What do you think about the wakesurfing today?
GW: I've been following it lately, and one girl in particular has caught my eye – Ashley Kidd, 2014 World Wakesufing Champion, kicks all forms of ass – They are using real teeny boards – and she is ripping the hell of the wake. I'm just in awe, and it's like I get down on my knees and say "I'm not worthy, I'm not worthy…"
WHOF: Gary Warren, wakesurfing pioneer…we think you are.