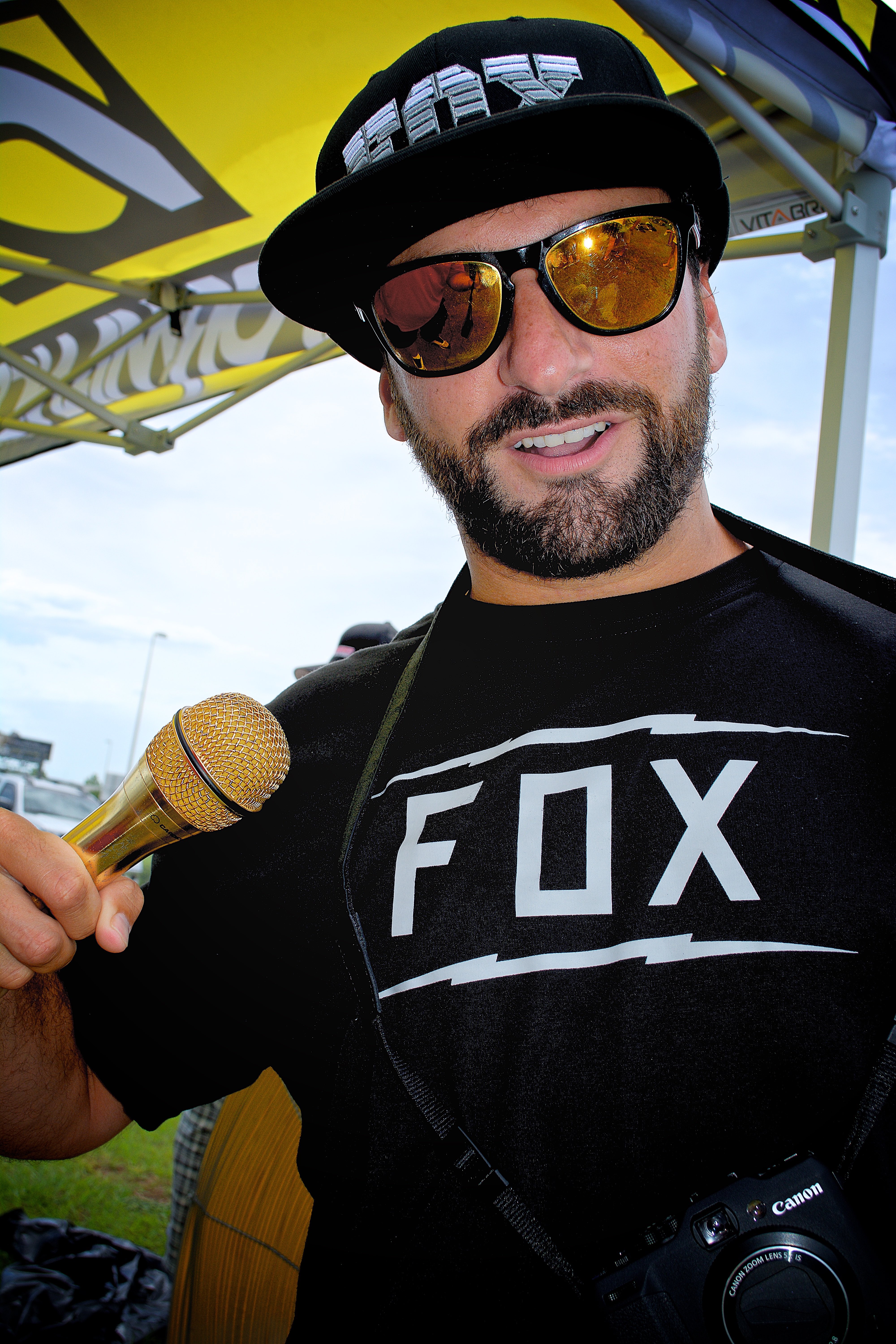 19 Mar

More than just the Noise – The Dano the Mano Interview

Having been around the Wakeboarding industry for most of my life has allowed me the opportunity to meet and become friends with many of the biggest names in our sport. Thus the first person in the sport I wanted to interview after becoming a board member for the HOF wasn't even a rider. He is much more than a rider, he is the voice of our sport.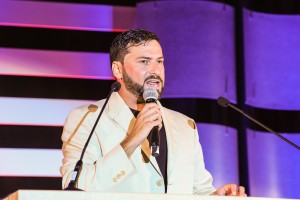 Dano The Noise of the North Mano is one of the most passionate dudes I know. I am sure most of you already knew this if you have ever had the priveledge to hear him announce any wake or waterski event. The energy and knowledge about the sport allows him to connect to the die hard wake fan or the casual passer by that's maybe just seeing wakeboarding for the first time. It's the latter that makes Dano so special, he is many peoples first impression of Wakeboarding. I remember hanging down at a Miami Dolphins game on Monday Night Football where the Step Up Productions crew set up a Rail Jam right outside of Sun Life Stadium. We had a bunch of pros like Watson, Laz, Byerly, Webb all hitting this insane little set up all while Dano was calling the play by play for thousands of Football fans who probably had no idea why we there. But you know what, Dano did such an amazing job creating an excitement, an energy that made everyone stop to watch. Even Dan Marino watched the boys take a couple of pulls. It is that kind of impact our sport needs and Dano delivers.
Like many of the announcers before him, Dano has the respect of the riders. Riders know that he will represent their brand and their image in the best way possible. Having been a childhood friend of Erik Ruck certainly brings along some street cred for sure. He borderlines on entertainer not just announcer several times at events I'll see him walking around tossing a yo-yo around, and his love for pro style wrestling sure shows through within his demeanor. He loves Waterskiing which is important, he hasn't forgotten his roots. Dano is focused on the future as well, if you haven't heard one of his podcasts you need to. His idea of the podcast is to allow the wake fan access inside the lives of the riders while on the go. Ive been checking them out while Im driving in the car, just awesome stuff. Dano has a way of connecting with many of the names in our sport so what you get is an open and honest interview.
I was able to connect with Dano via phone and email the last few weeks and had a few questions for him, lets get to know this legend!
(WHOF) Dano, serious question. What did you want to be when you grew up?
(DM) I can admit, there was probably a time in my younger days that I wanted to be an actor or singer.  As I got older, I kind of grew out of that a bit.  I quit honor choir in 8th grade because I was the only male soprano in the choir, looking back, that was something I should have embraced and been proud of.  I never took any more music or acting classes in high school.  I was the Aquanaut Waterski Show in Wisconsin growing up, so that was my chance to perform in front of crowds, and I think I was good with that.  Sometime early in high school I knew I wanted to be a part of the industry one day, whether being a pro show skier, but I guess I never really knew what I would do post high school.
(WHOF) Tell me about how you got into Wakeboarding.
(DM) I grew up Show skiing in Wisconsin.  I started in 1993, but remember a guy introducing me and my dad to a wakeboard sometime around 1991ish.  I grew up skiing with Erik Ruck, Erik always kind of waterskied with a unique style, and one day he started wakeboarding.  At the time Erik had to balance wakeboarding, with his water-skiing, but eventually his dad saw the big picture and knew wakeboarding was the future of towed watersports.  My dad on the other hand, thought wakeboarding was a dying fad, and just an easy alternative to being a good skier.  I wasn't allowed to wakeboard, but a few times a summer.  I did however win the Wisconsin State Novice wakeboard title in 1997 and 1999, so being a decent water-skier definitely helped my lack of time on a wakeboard.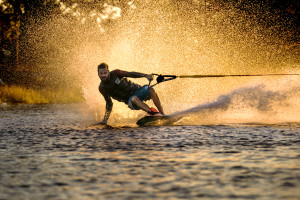 (WHOF) How did you get into announcing?
(DM) Actually, I was discovered in a karaoke bar!  All kidding aside, once I graduated high school, I got a job in boat sales selling Malibu and Master Craft boats at Munson Ski and Marine.  I was pretty good and sold over 30 boats a year my first two years in the business, needless to say I had a bunch of extra cash and decided to move to Florida, a dream I had since I was probably 13.  I moved down and lived with Parks and Ruck the first month down, that year Ruck won the Overall on Pro Tour as well as worlds, he bought a house and I moved in.  I got a job doing sales at Performance Ski & Surf.  I met everybody in towed watersports, all my heroes both waterski and wakeboard.  I wanted to be embraced by the skiers, but at that time I don't think they took my ski for fun not for points approach, and before I knew it, photos of me shoe-skiing started appearing in both Wakeboarding Mag and Alliance Wake.  I started growing a personality within wakeboarding and in 2005 I had the opportunity to announce Nationals right in my backyard, Kenosha, Wisconsin.  In 2006 I was hired for the entire King of Wake series, and more gigs just started popping up, it seemed like promoters wanted me at their events almost as much as the pro riders.
(WHOF) What is your favorite event to announce?
(DM) I'd probably have to say the Masters.  At first, in 2006 when I started I admit I was a little put off by the lack of support the Wakeboarders received from the skiers and skier's families.  Seeing the stands empty out for wakeboarding only made me work harder at announcing the event.  I would pretend like it was the biggest crowd for wakeboarding, and everyone there appreciated the wake boarders for being there.  My thoughts at time were that wakeboarding generated the money for the event and anybody within the industry should've respected that.  I look back at those days and feel bad a little bit about my attitude, but over the years I think the stigma between skiers and riders have sort of faded.  Now you do see the athletes hanging around, to support each other, and acknowledging each others sports and what they all bring to towed watersports as a whole.  Also over the years I think my love knowledge for all aspects of towed watersports has become apparent and in 2014 I announced every discipline at the Masters!  This will be my tenth year announcing there, and rumor has it after ten you get a ring!  That would be a dream come true!!!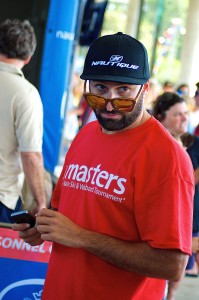 (WHOF) What are your thoughts about the new Wakeboarding hall of fame?
(DM) I think it's great!  The idea to preserve and celebrate the history of the sport is needed.  It is a job that most likely comes with minimal money and gratitude in return, but wakeboarding isn't the oldest beast out there and while the pioneers are still around, I think its important to recognize, document, and celebrate their history.
(WHOF) If you had to nominate 3 riders into the hall of fame, who would they be, and why?
(DM) Let me start out with the same answer everyone starts with….Wow thats a hard question!  So what I will do is say 3 guys who will undoubtedly be in the WHOF one day, but also made a huge impact on me.
First Erik Ruck, many people don't understand how hard it is to be the best when you only have a short time every year to spend on the water, Ruck is from Wisconsin, and at best he rode mid May through Mid October until he moved to Florida in 1999.  He will never admit it, but he was landing tricks before they were invented, but again as a kid in basically the middle of nowhere Wisconsin, those facts get lost in the mix.
Second, Shane Bonifay.  He was the original Grom.  Even with Parks as his older brother Shane always found a way to stay out of his shadow.  Shane was his own personality, had his own ideas, and for a long time seemed to be opposite of everything Parks was.  Shane helped put rail riding on the map, and was a pioneer when it came to rider produced content with the release of Pointless: Incomplete, a movie filmed and edited entirely by him and his friends.
Third, would probably be Colin Wright.  I loved his style, he was the first person I can remember who made not going upside down cool.  In the late 90's early 2000's it seemed you had to be a gymnast to get noticed, Colin's anti-flip attitude helped bring more style and variety to the sport, and helped people focus more on grabs and tech spins.
(WHOF) What has been the most memorable moment on the water that you have announced?
(DM) I have to admit one of the most memorable contest moments was announcing Rusty's first 1080 landed in a contest behind a boat.  Remember I have announced since 2005 about 15-25 events a year!  I've seen a lot, and forgotten more!
(WHOF) Who is your favorite rider to watch and why? 
(DM) If you would have asked me this ten years ago my answer would be different.  Nowadays as far as contests go, I like Rusty, he brings an energy to the water, and the fans really seem to connect.
Freerider latley I have been loving to watch Cody Hesse crush it on the cable, and even watched a boat set behind Brandon Thomas's G21 where he threw down so hard!  With more industry support and guidance Cody can hopefully one day be a bigger name.
(WHOF) What does the future hold for dano the Mano?
(DM) I am going through some transitions right now.  I am currently signed onto at least 15 event for 2015.  I also recently got back into sales working with a company doing vehicle, boat, and fleet wraps called Midcoast Customs(www.midcoast-customs.com).  We have two locations one in Orlando and one outside of Chicago, which is perfect for me as those are the two places I want to spend my time.  Also last year I started a Podcast called the Golden Mic Podcast.  I interview my wakeboard friends and industry people.  I hope to grow my Podcast and have the ability to continue releasing episodes beyond my career as an announcer.
(WHOF) So I've been listening to your podcast, it's really cool. Tell me about why you started the podcast and where you hope to see it in the future?
(DM) I started the Podcast because I listen to many myself, and knew that towed watersports, and wakeboarding in general needed it.  Everyone including myself these days are photographers and videographers.  I appreciate that and with the internet, the sky is the limit for what people can create.  I am in no way bashing amateur and aspiring media moguls.  I personally wanted something that stood out and would be different then anyone else.  Over the years I have met so many great people, been to so many great places, and have heard so many great stories.  I want to share my love and experiences with anybody who wants to listen.  Look I understand our sport isn't massive, but if you look at the numbers of amount of boats and equipment that are being sold every year, then you'd know that there are people who want to know the inside scoop, the behind the scenes stories, and I am the guy to facilitate that.  I have friends and contacts who span more then 30 years in the industry, and now I am trying to record and get it out for the people to hear.
(WHOF) Any shout outs?
(DM) I want to thank you guys for this interview firstly.  My parents, who brought me to the lake every weekend, and helped me find this love of the Lake Life.  My brother and sister, for their support, my best friend Erik Ruck and his wife Joi.  All the riders who have supported me over the years, and now with the Golden Mic Podcast.  Sean Dishman, Priscilla Scollin and Chris Bischoff.  Fox, Performance Ski & Surf, iWake.com, Ronix/Radar, JammyPack, Woodroze, Go Puck, Hungry Stand Up Paddle Boards, Aquanut Water Shows, and T-Gas Ski School. Brett Cormier and Jenna Hamel. I've gotta stop there, because the list is way to long!  Thank you anyone and everyone who have helped me live this dream for this long!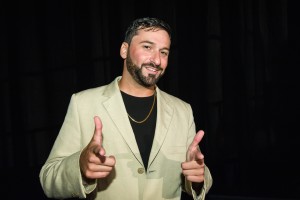 (WHOF) Is there anything else you would like to add?
(DM) The Golden Mic Podcast releases the first and third wednesday of every month, 24 episodes a year, free on iTunes and www.NoiseoftheNorth.com.  You can support, by subscribing, telling a friend, and of course listening!  I would love to get feedback so email me at GoldenMic@noiseofthenorth.com