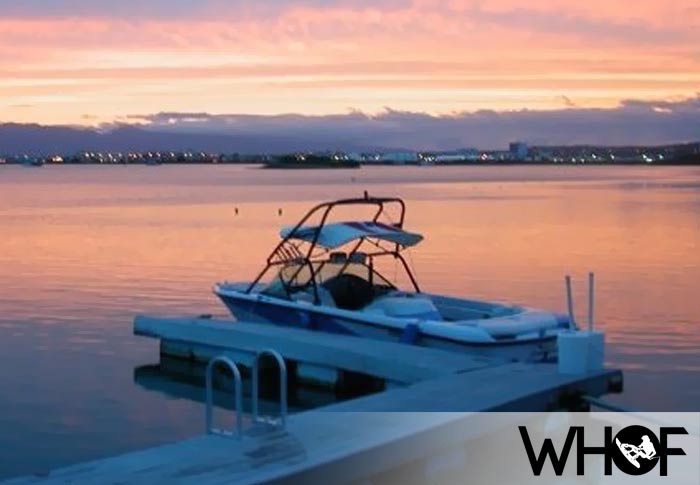 15 Jan

Hawaii H20 – Wakeboarding's Hawaiian History (Part 1 of 4)

It's no secret that for the better part of three decades, the mecca of the wakeboarding world has been based in Orlando, Florida. And while O-Town may still set the tone for what is current within the sport today, it was the Hawaiian Islands that served as the birthplace for wakeboarding's international competitive scene. Affectionately known as "The Rock," Hawaii played host for the first two World Championships in 1990 and 1991 on Kauai, with a return to the Garden Isle in 2004 for the Tigé US Open. In addition, the infamous RNR Hawaii Wakeboard Pro Am on Oahu was first held during Thanksgiving weekend in 1995 and served as a vacation destination for riders for nearly 10 years.

Living in the Aloha State, it's natural to have an affinity for watersports. In fact, most locals are introduced to the warm, salty waters of the Pacific from a very young age. Children are taught to swim, paddle and surf, sometimes before they can even walk. So having a "Parks" like introduction to watersports in the islands is not so uncommon. The Hawaiian people have always been drawn to the water. In fact, surfing was more of an art form to the native Hawaiians and was closely built into their culture hundreds of years ago.

Emerging from that surf came the passion of a few local guys who took on the daunting task of pioneering the sport of wakeboarding in the islands. First, there's Eric Perez, aka the Flyin' Hawaiian. A Kauai local and recent Wakeboarding Hall of Fame inductee, Eric earned the honor of being the first two-time World Champion in 1990 and 1991. Next is Lance Brug from Oahu. In 1990, "Brugman" took 2nd place in the Freestyle competition to Perez, and 3rd overall in the first two World Championships. Both men are among a select few who comprise the Dirty Dozen. Then there's Perez's protégé Ryan Siebring, who became an established rider in the late 90s, winning a Pro Tour stop in Austin, Texas in 1998 and later that season earned the title of WWA U.S. National Professional Champion. And finally, there's Reid Shimabukuro, founder of RNR Surf & Ski on Oahu. His vision was the catalyst in creating the Hawaii Wakeboard Pro Am, and its unique competition formats differed from what riders would normally experience anywhere else in the world.

It was the energy, commitment and drive of these four men that paved the way for wakeboarding to foster strong roots on a small patch of American soil that left a memorable legacy for those who were lucky enough to experience the tow in paradise.

THE EARLY YEARS
Let's journey back to when wakeboarding was in its infancy, and was just an add-on to waterski tournaments. From the late 70s through the early 90s, Kenny and Kathy Terheggen of Kauai Water Ski & Surf Company spearheaded the annual Turkey Day tournament, aka "The Knee & Ski Festival," that brought local and mainland competitors together for a fun, four-ball slalom and kneeboard competition over Thanksgiving weekend each year. It was this event that would embrace and foster the early wakeboarding events in Hawaii as well as the industry. Combine a proven site with a competition history, and a lush, exotic backdrop, and it's easy to understand why the Wailua River on Kauai was chosen for the first two World Championships.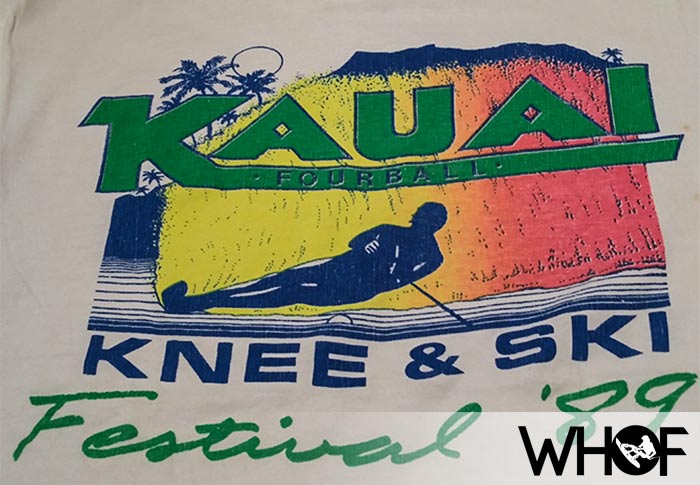 (T-shirt & photo credit – Lance Brug)
Hawaii obviously has some distinct advantages that other states can't compete with. From the moment the airplane touches down, you are greeted with the "spirit of aloha" and exposed to scenery not rivaled anywhere else in the country. But probably the biggest draw to the islands is the warm climate that allows year-round riding in just board shorts and a vest. No wetsuits required!
However, riding in paradise isn't without its issues. The huge expense of maintaining a tournament boat in saltwater, mixed with limited riding locations doesn't make it easy for a wakeboarder looking to get a pull. Kauai and Oahu are the only islands that provide practical areas to ride, and both have very different conditions to contend with. "The Wailua River on Kauai is protected from the wind," says Eric Perez, "so the consistent conditions made it easier to learn new tricks and progress. Also, boats were easier to maintain than on Oahu because it's mainly freshwater on the Wailua River."
The water on Oahu is pure salt, which is a much harder density than freshwater. That made it much more challenging for Kauai riders when they would go to Oahu to ride and compete. Plus, the sites on Oahu were typically exposed to the elements, making it difficult to get consistent water conditions.
Another drawback is isolation. Being thousands of miles away from the epicenter of the sport and not being aligned with other top riders on the mainland made it almost impossible to keep up with tricks. "There was very little exposure to what was going on elsewhere, so we didn't have any influence and had to make things up as we went," says Ryan Siebring. "Being so isolated also made it extremely expensive to get out of the state to go and compete."
At that time, Siebring was just a young grom, and competitions provided him with a different perspective on the scene. Adds Siebring: "Benji Guieb was my first rival in slalom skiing because he was the kid to beat in Hawaii. But by that time, I could do wrapped helicopters, but so could Benji. I did two in my run and he did one, and I won! And at that time, we could repeat tricks. It was so bad, we'd do butt slides and every trick that you'd make fun of nowadays. But really there was no rivalry, just a common stoke for being on the water."
"I never really felt there was a rivalry," states Perez, "but there was healthy competition between riders. Lance [Brug] would come over to Kauai, and I would go over to Oahu, and it was just really Lance. He was the only guy that I knew that was even doing much of anything back then."
So what makes a person who lives minutes from some of the greatest waves on earth choose wakeboarding over surfing? Surprisingly, Perez never felt it was a hassle to get behind the boat. "On Kauai, John Bohling had a ski boat, and was my biggest supporter so it was really easy and accessible for me to get out on the water any time I wanted," says Perez. "I didn't have to worry about the surf conditions. I just walked out to the river and started the boat up. So it was really easy for me. And once I started, it would be easier to learn tricks, where surfing takes kind of a different approach. A slower approach, where big carves and long tubes are the goal. In wakeboarding back then, you could learn a new trick every couple of days. So for me, I felt like everyday I could see myself improving and it was a big motivator for me."
For Siebring, it literally just happened. "We always just had outboard boats," he says, "so we'd surf and slash behind the zodiac. My dad was a water skier, so we skied, knee boarded, skurfed, barefooted, etc. We did it all."
It was a sad and unfortunate surfing incident that led to the decision for Lance to make the switch. "I watched my older brother get beat up one day at Kaiser Bowl and I got fed up with the 80s surf scene," says Brug, who then hooked up with his buddy Jeff Long after that incident. "Jeff introduced me to a show skiing team at Hickam Air Force Base and Jeff pulled me into the local AWSA competitive scene at Ke'ehi Lagoon. I immersed myself into the tow scene and from '82 to '88 I did everything possible behind a towboat; barefoot, jump, trick, slalom, show and achieved AWSA State Champ status in jumping."
It wasn't long before Brug started working for the legendary Jaap Suyderhoud so he could get more boat access, and in early '87 he found a Skurfer Launch in the shop closet. "The transition was immediate and I dropped all my AWSA efforts to focus on skiboarding", Brug continues. The crew at the Ke'ehi Lagoon club site, as well as his new employer, dished out loads of flack because his newly found passion wasn't well received in the three-event discipline. But despite all that, Brug rode steadfast.
"Show skiers and trick skiers were my examples from afar and I was 100 percent self-taught," Brug explains. "I finally gained a level of local respect when I was invited by Tony Finn to be in his Skurfer promo video on Kauai," Lance explains. From then on, that very same "trick skier" crew at Ke'ehi Lagoon couldn't hassle him anymore when he emerged as the first guy on Oahu to consistently land toeside flips and various spins. "I beat them to the goal of going upside down and riding away, and I did it side stance. I use to stare at the picture of Jimmy Redmond, upside down on his Sano advertisement, because that's what drove me. Then I met and watched Kreg Llewellyn, Eric Perez and Darin Wiley on Kauai because all those guys had amazing skills and at that point the game was on for me!"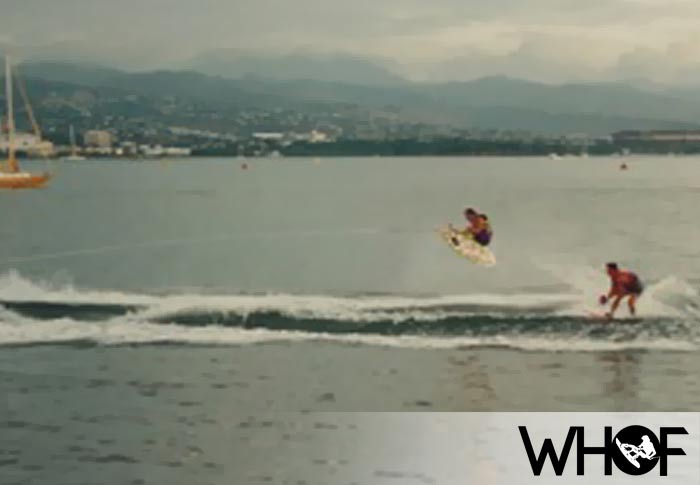 Brug & Perez at 1990 HydroFest in Peral Harbor (photo credit – Lance Brug)
In 1990, Brug and Perez got a rare chance to demonstrate their skill during the HydroFest boat races at Pearl Harbor on Oahu. Normally, these waters are strictly prohibited as they are the property of the U.S. Navy, but both men took this opportunity to showcase wakeboarding in front of a captivated crowd by throwing huge airs and inverts. Three years later, Russell Gay, the World Wakeboard Champion at that time, was invited to do the "halftime" show. It was there that Reid Shimabukuro would not only get to meet Gay for the first time, but would be the one to pull him behind his jet ski for his demo. Shimabukuro was simply blown away by what he saw, and from there, the "stoke" began for him.
"I never thought anything would take me out of surfing, I couldn't imagine that," says Shimabukuro. "But it comes down to one day at the right time, and then you get a passion for the sport. And once you get the passion, you start to look for opportunities and things start to fall into place. Stuff that I knew in my heart that surfing was never going to provide for me through the industry. But the wakeboard industry was new at the time, and we had all the opportunities in the world to make our name. And the thing that drove me to want do it more, was that I was doing it with a group of guys. And we all pushed each other, laughing and having a great time. We absorbed every magazine, every video and ESPN show."
And for a state that prides itself on watersports, ironically there weren't too many surfers to make the transition. "It's a different type of athleticisms" explains Brug. "You have to work hard to be a good wakeboarder. Water skiers can become wakeboarders quickly. But a snowboarder, surfer or skateboarder becoming a wakeboarder takes a lot of time because the 'tow' is something that is different than any other board sport in the world. There's no other board sport that you're pulled. Everything else is gravitational push. So to learn the 'tow' is actually prohibiting to those other board sports because they don't understand the handle. They can learn it, but it takes a lot of time because that takes the boat and the driver to pull your ass to learn that tow. And that holds people back unless they get into that element."
Shimabukuro adds: "I think you almost have to abandon the other sport that you like if you want to be a good wakeboarder. You can be a recreational wakeboarder, and go surf, with surfing being your main sport. But if you want to be a competitive rider, do spins and inverts, you have to spend the time on the water. Lance and I are examples of that. We were both surfers, but the minute we started wakeboarding, the surfboards got dusty. There were guys that would come out to Kaneohe Bay when RNR was in operation, and they would bomb the area. But that was the difference. We were there to progress and they were there to have fun and play."
-Come back next week for part 2 featuring the First World Championship in 1990 Kauai-
This page is brought to you by: