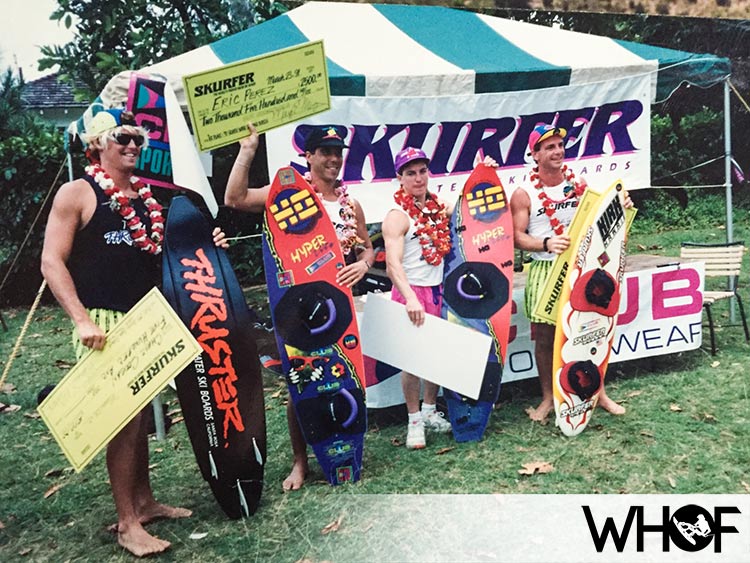 22 Jan

Hawaii H20 – Wakeboarding's Hawaiian History (Part 2 of 4)

THE FIRST WORLD CHAMPIONSHIPS
Back to 1990, it was Skurfer brand inventor Tony Finn that invited eight riders from the U.S., Canada and Japan who represented a variety of disciplines, such as snowboarding, three-event skiing and wakeboarding, to compete in the first World Championships, officially titled The Skurfer Invitational Skiboard Challenge.

The competition format in those early years included a combination of two categories. Freestyle – which was similar to the Free-Ride format we all know today – but riders would advance from round to round, meeting up in a two-man final. The other category was Slalom, which resembled traditional slalom skiing. The rider with the highest combined points total from both categories was crowned the World Champion. However, more points were awarded in the Freestyle competition since that was regarded as the more important event of the tournament.

While the first four World Championships would use the dual category format, contest organizers and competitors did everything possible to separate themselves from traditional three-event skiing tournaments. Originally, there were design limits on boards used for the competition. According to Perez, bindings had to be in a certain position, and the boards needed to be a certain width and length. Trick skiers couldn't just get on their trick ski and say, "yeah, this is a wakeboard."

"That was kind of a big thing for me," says Perez. "Making sure that it was its own sport and it didn't fall into the traditional waterski aspect."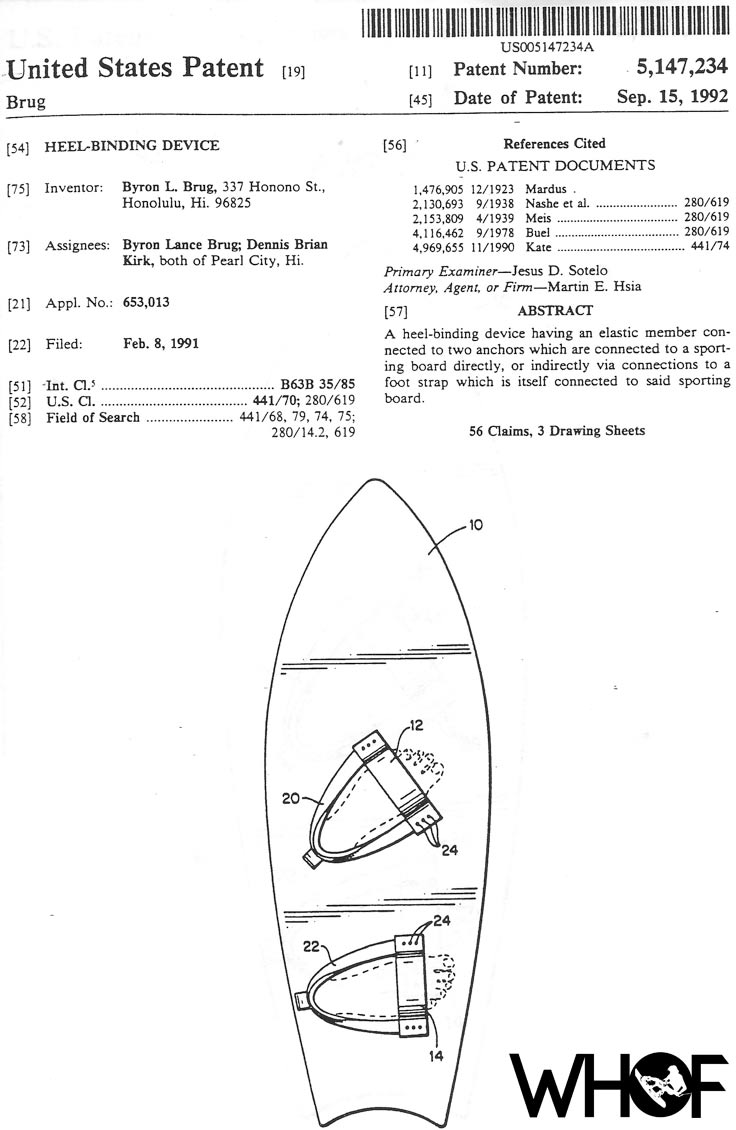 Original US Patent on Strap Bindings (photo credit – Lance Brug)
Before the first event, riders were only connected to boards with a single strap over the top of each foot. That is until Brug created prototype straps that also wrapped around the heel of each foot, giving the riders much more security while performing their tricks. However, Brug wanted approval to use these straps, so the tournament organizers ordered him to provide a set to every competitor before the start of the competition. He immediately got to work, and delivered a pair for each of the eight riders the very next day. All but one rider chose to use his invention. This led Brug to create what came to be known in the industry as the "bungy" binding, a device that he patented in 1992.
Perez continues: "The only guys that were doing like flips and stuff were the guys coming from trick skiing, and you know that was the last thing we wanted to be were trick skiers. It was almost good that we were here in Hawaii, more amongst the surfers to perpetuate that influence more than the waterski side. And for me, I was afraid the sport was going to turn into a big trick ski. So I did everything that I could to make it more like snowboarding or surfing, as opposed to trick skiing."
In 1990, the Slalom event was contested first, and while Perez set a world record in the first round, he finished second to Canadian Kreg Llewellyn in the finals with Troy Navarro taking third. The real action was battled out in the Freestyle competition, and Perez faced fellow local boy Brug in the two-man final. Both men threw all they had despite the unusually rough conditions, each suffering falls in their passes. But it was Perez who had slightly more in his bag of tricks and took the Freestyle competition. Combined with his second place finish in Slalom, Perez earned the overall title and a check for $2,500.
Perez returned the following year ready to defend his title. In 1991, the only changes to the format was in the Freestyle competition where four men would compete in the Finals, and each rider would be scored on their best five tricks. Perez upped his game by winning both the Slalom and Freestyle events to repeat as World
Champion, but it didn't come without a fight. Newcomer Darin Shapiro made his debut and pushed Perez to the limit but had to settle for second place. Brug, competing on a Kirk Hawaii board created by local surfboard shaper Dennis Kirk, also repeated his performance from the previous year by completing the overall podium in third place.
And while Perez will forever hold the honor of being the first, two-time World Champion, chasing competitive titles was never a career path he saw for himself. "It wasn't something that I really pursued," he says. "I never trained. When I started the Pro Tour, I would have trouble remembering my run because I wouldn't really train. For me, I only did the sport because it was fun. And I loved doing board designs, especially the creative aspect of it."
It was that creativity that led him to do other things on a wakeboard besides shred behind a boat. Perez's video footage at Hanalei is the first evidence of anyone actually doing tow-in on a wakeboard in the surf. It should be noted that Laird Hamilton was also doing tow-in around the same time as Perez, but Hamilton was on an actual surfboard and they would try to catch a big wave, let go of the handle and get barreled for as long as possible. Perez took a different approach by continuing to hold onto the handle while getting towed and doing tricks on the waves.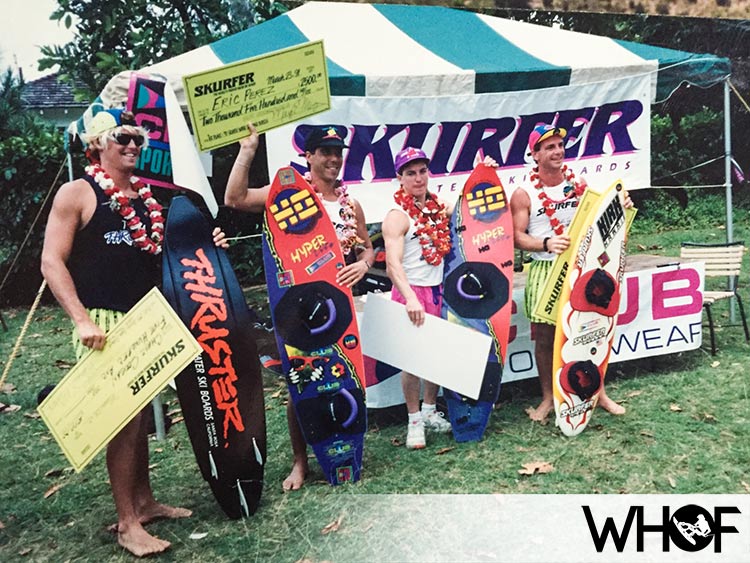 1991 World Podium: L-R = Chris Coogan, Eric Perez, Darin Shapiro & Lance Brug (photo credit – Howard Bass)
As for Brug, while having the opportunity to compete in the first two World Championships was awesome, standing on the podium at both events was a dream come true. "To step off the podium with a check for riding with the boys was unprecedented," he says. "It was an unfortunate event that got me into the riding scene, and an unfortunate event that pulled me away when I blew out the L5S1 disc in my back after the 1st round of Tommy's first Nationals in Denver."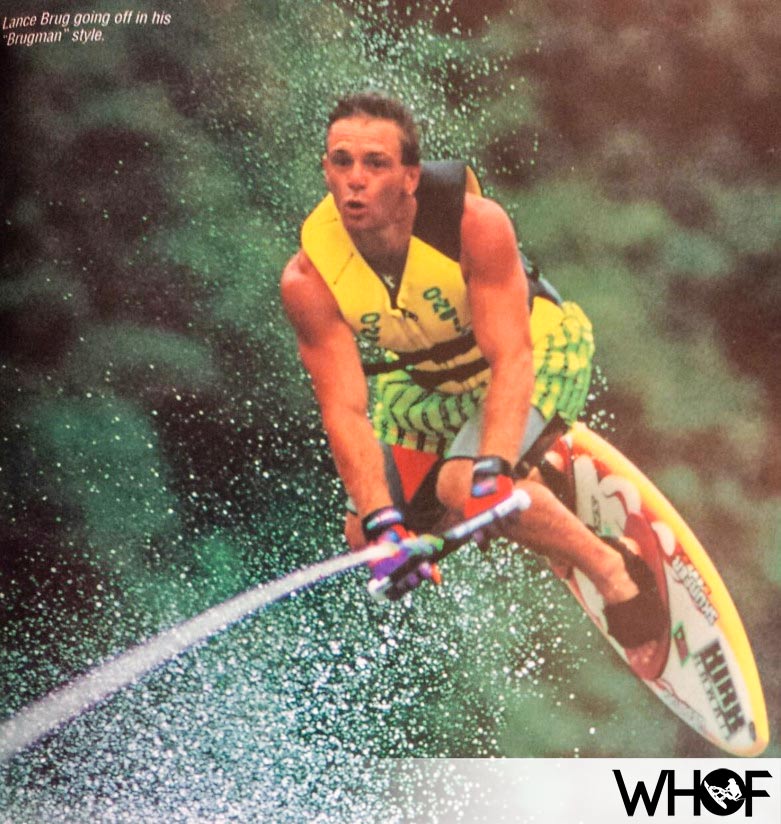 Lance Brug before the 1991 World Championships (photo credit – Waterski Magazine July 1991)
Brug left that event physically broken and emotionally beaten. But it was his protégé, best friend and fellow Kirk Hawaii team rider Pat McElhinney that rose to the occasion at that same event. "My riding career ended while his was catapulted," Brug concludes.
Tragedy struck Kauai in 1992 when Hurricane Iniki wreaked havoc over the entire island, which took many years to recover. Unfortunately, it would take 13 years before the Wailua River saw the return of a professional wakeboarding event with the Tigé U.S. Open in 2004.
[youtube id="Dz8xt9-aVbk" align="left" autoplay="no" maxwidth="750″]
-Come back next week for part 3 focusing on Kauai native and former Pro rider, Ryan Siebring-
This page is brought to you by: