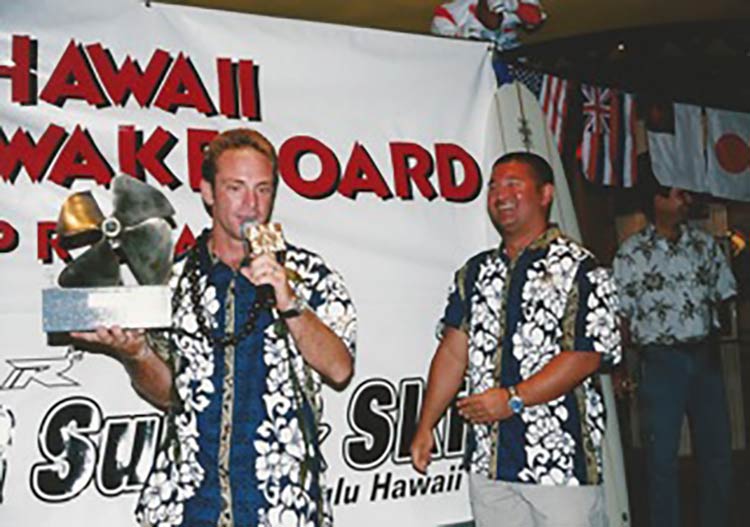 05 Feb

Wakeboarding's Hawaiian History (Part 4 of 4)
RNR Surf & Ski


Old Hawaiian magazine ad for RNR Surf & Ski
Inspiration comes in many shapes and forms, but probably the most common comes from a person who makes a lasting impression in your life. Reid Shimabukuro recalls what led to his decision to start his own wakeboard business.
"To be totally honest, it was Bill Porter of Performance Ski & Surf that was the driving force in my decision to open RNR, because of his influence and inspiration," says Shimabukuro.
From the moment Russell Gay introduced Shimabukuro to Porter during his first trip to Orlando in 1994, he was in awe of his operation. What stood out for Shimabukuro was Porter's amazing generosity, even though they had just met. "The first time I was in his shop, Bill says to me, 'you're here from Hawaii? What are you planning on doing?'" Shimabukuro replied, "I'm staying at Russell's and I'm going to be in his wakeboard school."
And without hesitation, Porter extends him a huge helping hand: "What board do you want? Take as many boards as you want and try them all out." Shimabukuro was simply astounded at his response. "He didn't even know me, and I literally grabbed three boards off the shelf. Demos that I could take and I was able to ride for a week. Even though he didn't know me. But that's the kind of service that Bill did, and why he's so successful. His customer service is just unbelievable. And that's why it was RNR Surf & Ski because I wanted to model RNR after Bill's shop and provide the same type of service."
But before RNR could become a reality, Shimabukuro was going to have to battle Jaap Suyderhoud who expanded his waterski business to Honolulu in 1975, and for decades was the only game in town when it came to locals seeking waterskiing and wakeboard gear. After exploring all the angles, he decided to pull the trigger. "The reason why Calvin Paguyo (original partner) and I decided to open up the Kilani Street shop was we needed a retail space in order to open an account with companies to get product. At that time, I lived up the street and it was a convenient location between where I lived and Ke'ehi Lagoon. We decided to pull Lance into the business when we got the opportunity to move the business directly onto the water at Marine Corp Base Hawaii at Kaneohe Bay. We were going to need more expertise, especially because now we were going to be doing on-water instruction."
When RNR moved to Kaneohe Bay, its pro shop and wakeboard school were an instant hit.
"We simply took it from a team sport and turned it into an individual sport" says Shimabukuro. "It was like grabbing my surfboard and going into the ocean. Now, a rider could just grab their wakeboard, head to RNR and go ride."
It didn't take long to see the results of their hard work because now, the RNR boys would have to compete for good water with customers that they taught. Riders would take a lesson at RNR first, and then they'd be in their own boat on the weekends battling the RNR crew for the same water. However, Shimabukuro proudly understood that this was a good problem to have. "That only happened because we built the sport to the point where everyone wanted to be a part of it."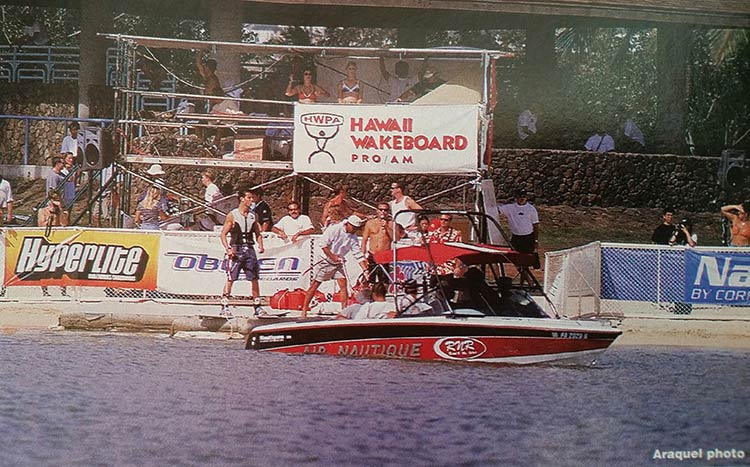 Ripped from the pages of Launch Wakeboard Magazine (photo credit – Araquel)
RNR Surf & Ski cemented its legacy in the wake industry through its Hawaii Wakeboard Pro Am competitions, luring pro and amateur riders, along with their families, from all over the world to spend Thanksgiving in the islands. Two weeks after becoming the 1995 WWA World Champion, Mike Weddington, along with Cobe Mikacich, Scott Byerly and Chris Bischoff, made the long trip from Florida to attend the HWPA. Their exhibitions were a huge hit with the local crowd who had never witnessed riding of that caliber before.
The guys at Fall Line Films also made the journey and took the opportunity to capture footage for "Hit It" and "Skurf's Up," where Byerly stuck the first 720 on film just outside the doorstep of RNR. These videos catapulted RNR's reputation in the industry, and allowed the HWPA to earn the title of "the event not to miss" by Launch Wakeboard magazine.
For years, many got to enjoy Shimabukuro's and Brug's passion and hard work. They were the first ever to do a crossover event, which was a combination of a wakeboard and surfing contest. Awards were personally designed and handmade, including the surfboards that were given away as prizes. And vintage Aloha shirts were given out as competitor gifts.
"I think what RNR gave back to the industry, for one, was we introduced and established a new sport in our backyard," says Brug. "'Eventing' emerged in Hawaii on a local sense and blew up to an international sense. So through the 'eventing' we placed Hawaii on the map through our RNR contests. Even within the industry at the time, there was very little eventing going on. Tommy Phillips and a couple of guys can raise their hands, and even for me, I didn't think too much about contesting until I met Reid.
"His vision was more about others. It was about kids. That was our thing. Reid was a visionary that created an event to fuel this fire, and we realized that we had something here that was new. With the help of a small, core group of people, we created our own sponsorships and a pro purse. I think that's why what we did over here was so special."
Shimabukuro adds: "The only thing I can't confirm is if maybe the AWSA guys had some type of skiboarding division attached to their tournaments, because they'd been around forever. I don't know. But we were the only ones that were wakeboard- specific and that's all we did. We would always state that we were the first legitimate grassroots contest. And maybe somebody can come now and say, 'No, they did it,' but they didn't put it in the magazines or videos, and that gives the validation stamp right there. The magazines create the timeline, the history. We wanted the industry and the upper 48 to know that we wakeboard here in Hawaii, we held a contest, and Eric Perez is the Flyin' Hawaiian."
"It legitimized Hawaii as a wakeboard scene," says Siebring. "[Reid and Lance] brought everyone together and made some amazing friendships. They got media coverage and created a scene for Hawaii in the industry."
Shimabukuro's and Brug's reputation to host a first-class event led both men to become "consultants in contesting," and mainland event organizers would soon reach out to them for help. Twice, they were flown to Arizona to do the Phoenix Pro Am. Also, they were instrumental administrative personnel at the L.A. Open and Detonate Challenge in Southern California. Brug would emcee for the events while Shimabukuro would serve as a judge and administrator. They also had a hand in helping create the Hyperlite Tour and informally consulted on the formats, what to do and how to do it.
"It was such a relief for the organizers when they'd bring us in to help out at their events," Shimabukuro explains. "We'd do a lot of administrative work and helped cover things for them. From the time we arrived to the time we left, we would help run the event. And that's why we'd get invited back. I want to humbly say this, where ever Lance and I went, we always drew a crowd because people always just wanted to talk story, hang out, have a drink, whatever it was. Whether it was at Surf Expo or when we'd go up to the dealer meetings at Hyperlite."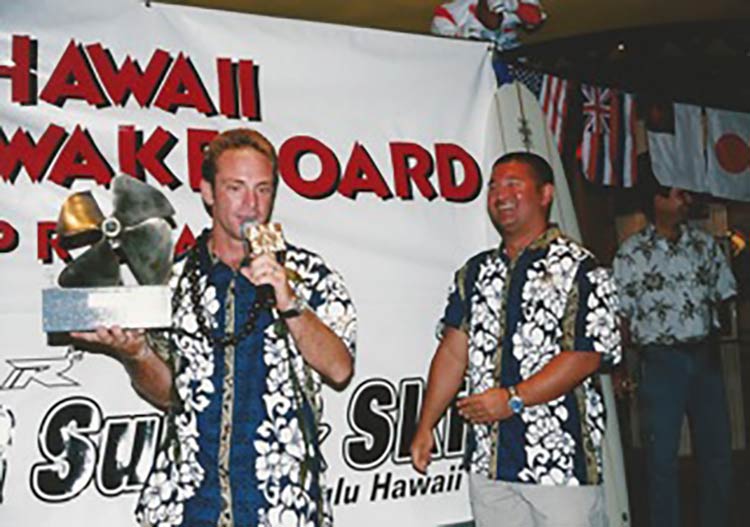 Lance & Reid handing out a "special" award at the HWPA (photo credit – Lance Brug)
The guys at RNR benefited because they exposed Hawaii as the destination for wakeboarding. The film and magazine industry for wakeboarding came. The sponsors came. This small little event in Hawaii quickly grew because there was so much potential for exposure through the people that came to Oahu.
"When we look back, I think we enjoyed the best times of the sport," continues Shimabukuro. "It was before all the rails, kickers and sliders, you know? To me, the purest part of the sport is off the wake. We enjoyed watching guys like Mark Kenney, Darin Shapiro, Parks Bonifay and Erik Ruck. You know guys that threw big tricks just from the wake. To me, that was the appreciation in seeing these guys go huge off of the wake."
The first team rider that RNR inked was none other than Randall "The Vandall" Harris. The Harris family first came to the HWPA in 1995 where Randall placed second in the men's final. Soon after, they became big supporters of the event and of RNR. During a trip to the Harris family home in Canyon Lake in 1996, Shimabukuro approached Harris and his father, Larry, about the deal. Without hesitation, Harris accepted the offer, even without knowing all the details of the sponsorship. "I had already talked to Larry and told him what we could afford to pay him, and I kind of felt embarrassed", said Shimabukuro. "But Larry said it wasn't about the money, so not to worry about it."
Shimabukuro continues: "Larry Harris, to me, was an extremely important part of RNR. He was the businessman. He was also the father of a young rider, but he put his family on the side a lot to sit down and talk with Lance and me about the business, He was also instrumental for hooking us up with Correct Craft."
During its time, RNR had an international team of riders. In addition to Harris, riders such as Erik Ruck, Mark Kenney, Scott Zenoni, Stephane Traeger, Matt Takaiwa, Evelyn Zerr-Nelson, Lauren Loe, Norikazu Togue, Tetsuo Kurita, Joji Kobayashi, Benji Guieb and Jimmy Wilkinson would wear the brand.
It's been over 12 years since RNR shut its doors due to post 9-11 consequences. Since it was located on a military base, and once Desert Storm began, access to the base was limited to "essential only" status. This meant business came to an instant halt overnight, and the decision was made to close up the shop.
When you look at the footprint that RNR left behind, it's undeniable that Shimabukuro and Brug created an environment in which a rider could strive for excellence. RNR provided good tournament boats, good driving, coaching, encouragement and contesting. Those are the things that were created, but don't exist on Oahu anymore. As soon as the doors at RNR closed, wakeboarding nearly died. And still today, no one really rides. There are people who still have wakeboards and ride, but there's no scene.
Without RNR, it was as if the surf went flat. And when talking about it, neither Shimabukuro nor Brug, hide their disappointment of this fact. "The thing that we're bummed on is that nobody hasn't taken our legacy, our structure and just duplicated it," says Shimabukuro. "That would have been a nice thing to see."
Shimabukuro and Brug are most proud of the memories and life-long friends that were made during their years of operation. "We got to meet so many good people," says Shimabukuro, "which provided us the opportunity to go and see places that we would have never gone to."
WakeBoarding Champ from John Yasunaga Thanks to yasunagavisuals.com for the video!
MAHALO (HAWAIIAN FOR THANK YOU)
While I conducted these interviews, one thing was clearly evident. These founding fathers of wakeboarding in Hawaii truly love this sport! They could've gone on for days talking about their experiences, and I felt privileged to be able take this journey down memory lane with them.
Who knows, maybe Hawaii will get the chance to play host one more time so the wakeboard industry can enjoy reliving old memories, while making new ones during a Legacy Reunion event?
Eric Perez: I'd like to thank John Bohling. He's selfless and is still a great friend. We have more than just the sport of wakeboarding.
Ryan Siebring: I'd like to thank my parents who sacrificed for me big time. Eric Perez, John Bohling and Scott Wilson. Reid Shimabukuro and Lance Brug (big brothers who guided us). Jimmy Redmond aka "Eddie" and Tony Finn at Wake Tech and Liquid Force. The Sovens and the Necrasons.
Reid Shimabukuro and Lance Brug: To be honest, we'd like to thank anyone who was involved in the sport during 1993-2003. And we're doing it that way because we don't want to leave anyone out. It would be too easy to miss someone. But we'd like to give special mention to Patty Brug, Herb & Paul Obrien, Greg Dick, Bill Porter, Darin Wylie, Larry & Kaye Harris, Russell Gay, the late Jeff Barbieto who provided water safety for all our HWPA events, and last but not least, our many RNR staff & crew, including our friends from Japan and Europe.
About the Author: Ryan Shimabukuro was born and raised in Hawaii, and is an avid wakeboarder currently living in Utah with his wife and kids. He has judged at the professional level, including the Gravity Games, U.S. Pro Tour and Malibu Open.