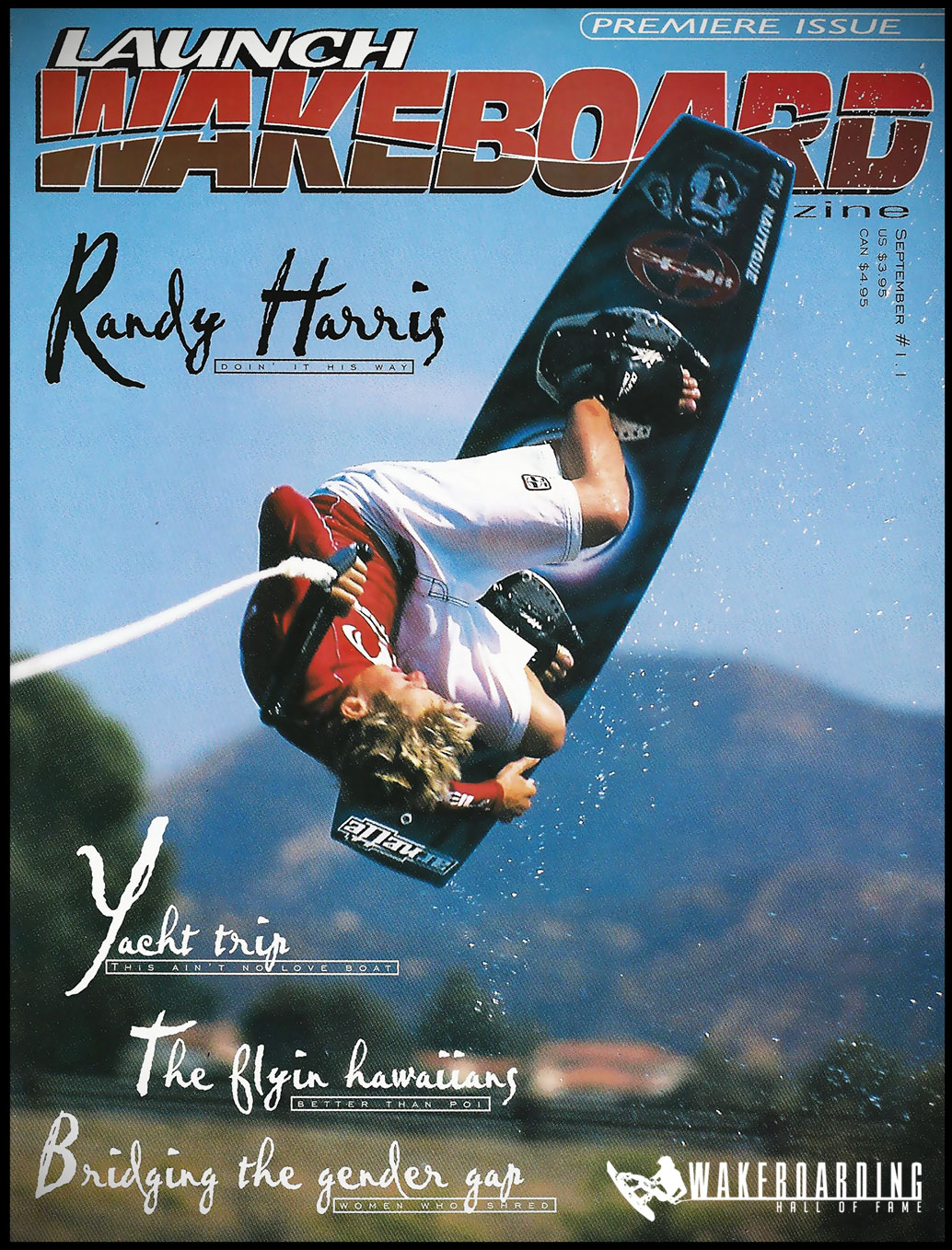 05 Mar

Launch Wakeboard Magazine- From the Beginning | By: Jeff Barton
"Be WakeBoarding Magazine's obnoxious little brother. Be a smart ass that is cooler. You'll get it."
And from that quote Launch Wakeboard Magazine was born. This editorial directive came in the offices of World Oceans Media, a Southern California based publishing group that focused on the action sports world. With a surfing, snowboarding, bodyboarding and freestyle motocross magazine already in their group, they wanted to get into the wake scene. And by absolute sheer luck I was the guy hired to lead the charge. With those words quoted above I was sent on my way to shake up the world of wakeboarding. I was on board with Launch from the formative days until it changed over and became "Bluetorch Magazine", another seminal wake publication that made great contributions along their path in wake as well.
For this Wakeboarding Hall of Fame project, we are going to revisit each cover shot throughout the history of Launch Wakeboard Magazine to offer a snapshot of how things were back then. The cover subject was always an important pick so I will offer reflections on what made that rider relevant to the sport along with some comments about what some of the content of that particular issue was. Please feel free to weigh in with your comments as well, especially those of you who were a part of this generation of riding.
I've already talked here too much. Let's get to it.
-Jeff Barton
Launch 1.1 The Premiere Issue
Cover Subject: A then 13 year old Randall Harris (Back in the Randy years!)
Photographer: Kelly Kingman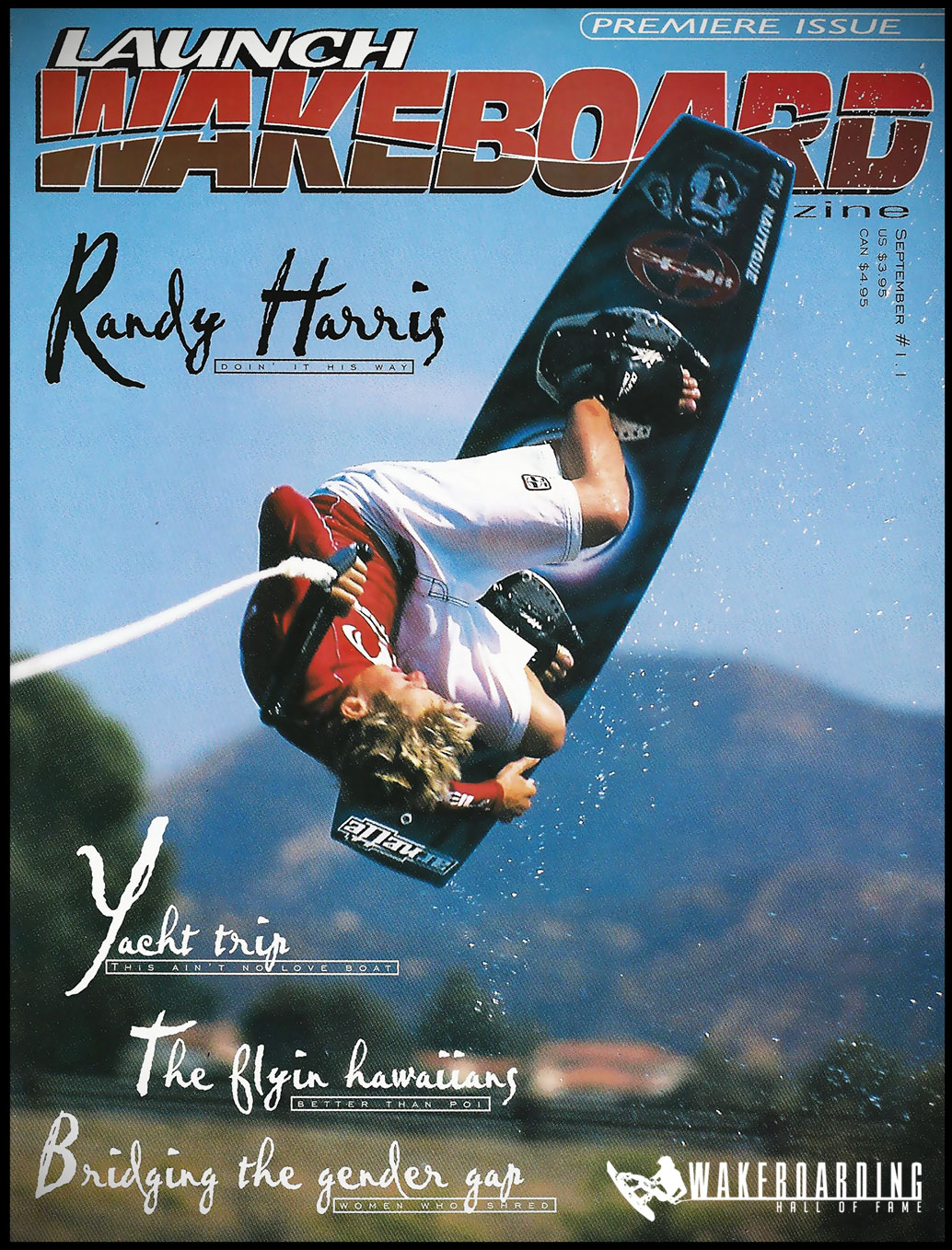 You only get one chance for a first impression, and we wanted to come out of the gates firing with our first issue. Randy Harris was selected to help make our statement for a number of reasons- much like our publishing location, he was a southern California product who already had become known for riding with that bo big, grabbing style that reflected the boardsport generation out west. Having Randy mid half cab slob front with that iconic southern california back drop made the exact statement we wanted: There's a ridiculous amount of talent and riding beyond the confines of Orlando and we were here to uncover it all.
The contents were designed to be equally as unique. And article about the "Flyin' Hawaiians", Lance Brug and Reid Shimabukuro who promoted the stoke of wakeboarding over in their paradise on Oahu. Then there was the seafaring wake mission behind a 68 foot ocean cruising yacht, with a wake literally as big as some of the riders themselves. Another underexposed area f the sport was the women's riding scene so we hit 'em with a 12 page feature exclusively on the ladies making it happen all over the country.
One thing I was totally pumped on was the first photo feature. It was the kind of sh** that made you wanna just go out and ride after looking at all the filth – Byerly with a sequenced Switch Method Mobe, Schmaltz with a sequenced Wrapped Tail Grab 360, Greg Nelson with his Crow Mobe with a clearly northwest backdrop. But the coolest sequence came in to us literally as the first magazine was being sent off for printing. It was a 4 shot sequence of Gregg Necrason pulling off this absurd dock hop to front board slide. It was so sketchy, so dangerous that few people would have the balls to even think about trying, let alone to courage to go for it. And Regs absolutely nailed the sh** out of it perfectly. With all due respect to Randy, I always felt this sequence should have been the cover of the first Launch magazine, but we just didn't have the time to prepare it and get it printed in time for our debut at Wake and Surf Expo back in 1997. But we managed to get it into the first magazine and it helped us make our opening statement about our true intent to push the envelope in the wakeboarding media.
Here's the sequence: