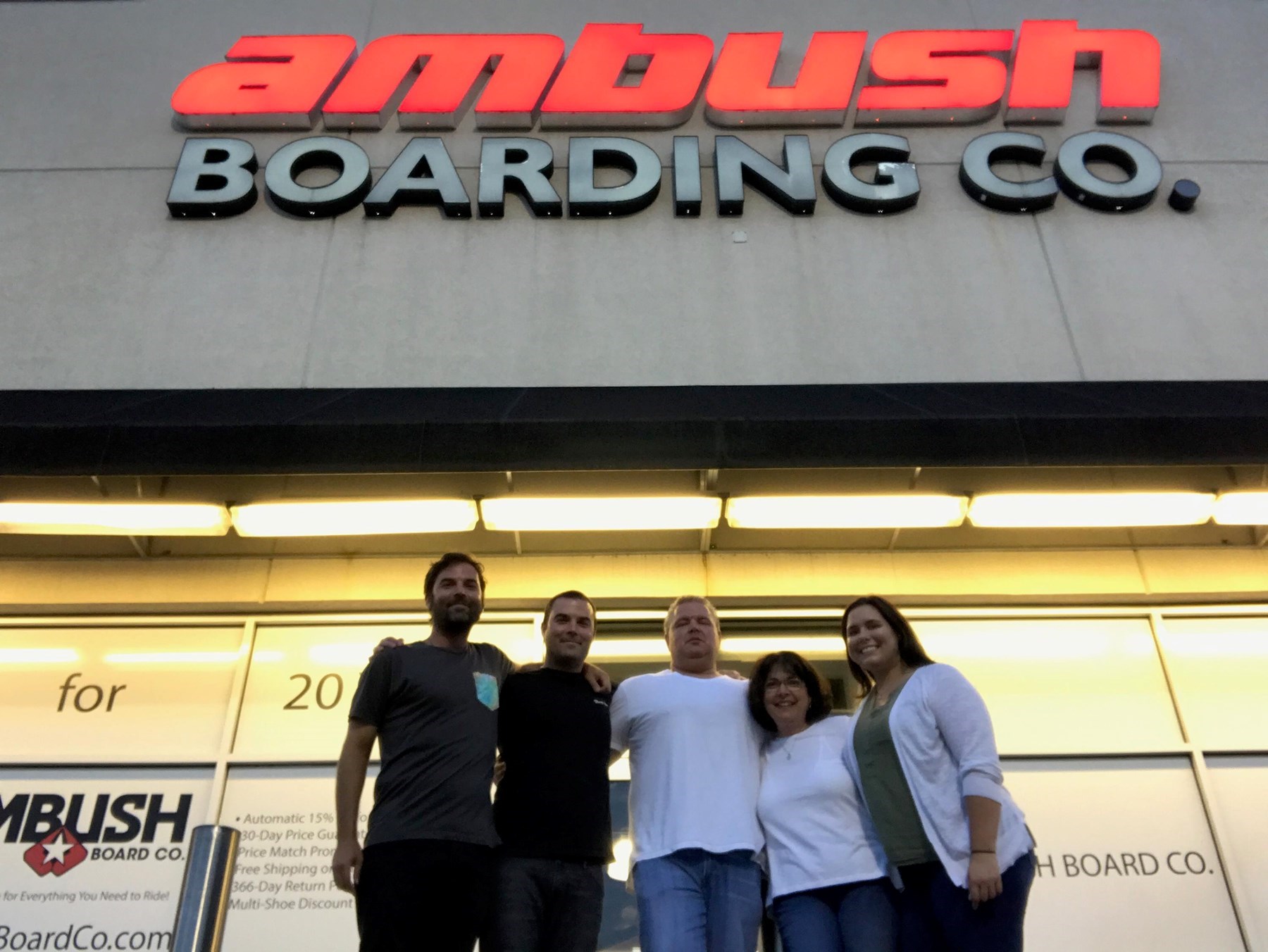 19 Sep

In Memory of Chuck Morrow
Chuck Morrow
12/12/1964 – 09/01/2017
Wakeboarding had existed for a few years before Chuck Morrow founded Ambush Board Co. and Buywake.com, but it was still a small, burgeoning industry.  The products were being improved at a rapid clip with major innovations taking place in design, function, and construction for both boards and bindings.  But, how wakeboards were being sold at retail was stuck in the dark ages.
Boat dealerships were the primary source of distribution for wakeboards until Chuck established Ambush Board Co. (https://www.ambushboardco.com) in the summer of 1997.  Most boat dealers would relegate an unused corner of the sales floor to a few of mid-grade wakeboards and call it a "pro shop."  Enthusiasm for wakeboarding was rising, but the dealers at the time were more focused on selling boats than boards, and their knowledge of the products and of the sport itself were minimal at best.  If wakeboarding were going to grow, it needed a focused, passionate advocate at the retail level.
Chuck founded Ambush Board Co. on the idea that all action sports were kindred and should be celebrated and marketed together.  He brought wakeboarding, skateboarding, snowboarding, and surfing together harmoniously under one roof.  Chuck added products from the subcultural elements of action sports, including Punk Rock CDs, band merchandise, and indie collectables, and made them staples in his store.  Most importantly, Chuck single-handedly rebranded wakeboarding and how it was viewed by potential new participants.  Chuck separated wakeboarding from waterskiing and boating and aligned it with skateboarding, snowboarding, and surfing.  To Chuck, wakeboarding was an "extreme" sport that deserved the respect of the action sports community, and the community took notice.  This ushered in a new era of legitimacy and respect for wakeboarding and helped the sport reach its new potential.
Chuck thrived on change and made it his personal mission to buck the status quo.  He energetically looked for ways to improve on ordinary ideas and transform them into groundbreaking retail concepts.  The Internet gave Chuck the vehicle to again alter the course of wakeboard retail when he launched BuyWake.com (https://www.buywake.com) in 2001, when online retail was still very much in its infancy.  At the time, retailers were cautious to enter the online realm.  Most websites were rudimentary virtual brochures and wakeboards were either being sold in brick and mortar stores or through mail order catalogs aimed at recreational boaters.  BuyWake.com came to market with a fresh new way to buy wakeboards and brought with it a whole new attitude.  The introduction of BuyWake.com and its "No Skis, No Tubes, No Bulls#!t" maxim solidified itself as a thought leader and tastemaker while simultaneously casting everyone else as kooks.  BuyWake.com also blew the international market wide open by making it easy for riders purchase wakeboards overseas, thus creating a worldwide wakeboarding boom.
As the Internet evolved into a perfectly connected collection of individuals, ideas, and resources, Chuck sought to disrupt wakeboarding again, this time through simplification.  To Chuck, the customary way of selling wakeboards online was becoming inefficient, slow, and costly in a rapidly progressing digital retail landscape.  To combat his concerns and better serve his customers, Chuck developed what he called i2, an organized network of data feeds that bring wakeboards and riders closer together than ever before.  Chuck's vision was to lithely adapt to how, when, and where wakeboarders wanted to buy, and make sure their wants and needs were met with ultimate speed, efficiency, and effectiveness.
Chuck Morrow will be remembered for his radical approach to retail, unwavering beliefs, commitment to his principles, and his often brutal honesty with everyone around him.  He strived to do his best and expected the same out of others.  He compelled the industry around him to question conventional wisdom and demand more out of themselves and their respective brands.  Chuck forever changed the way wakeboards were sold at retail three times in twenty years, while bringing Ambush Board Co. and BuyWake.com to the pinnacle of the wakeboarding industry.  Chuck Morrow will be dearly missed by all who knew and loved him, and wakeboarding will be forever grateful for his contributions.