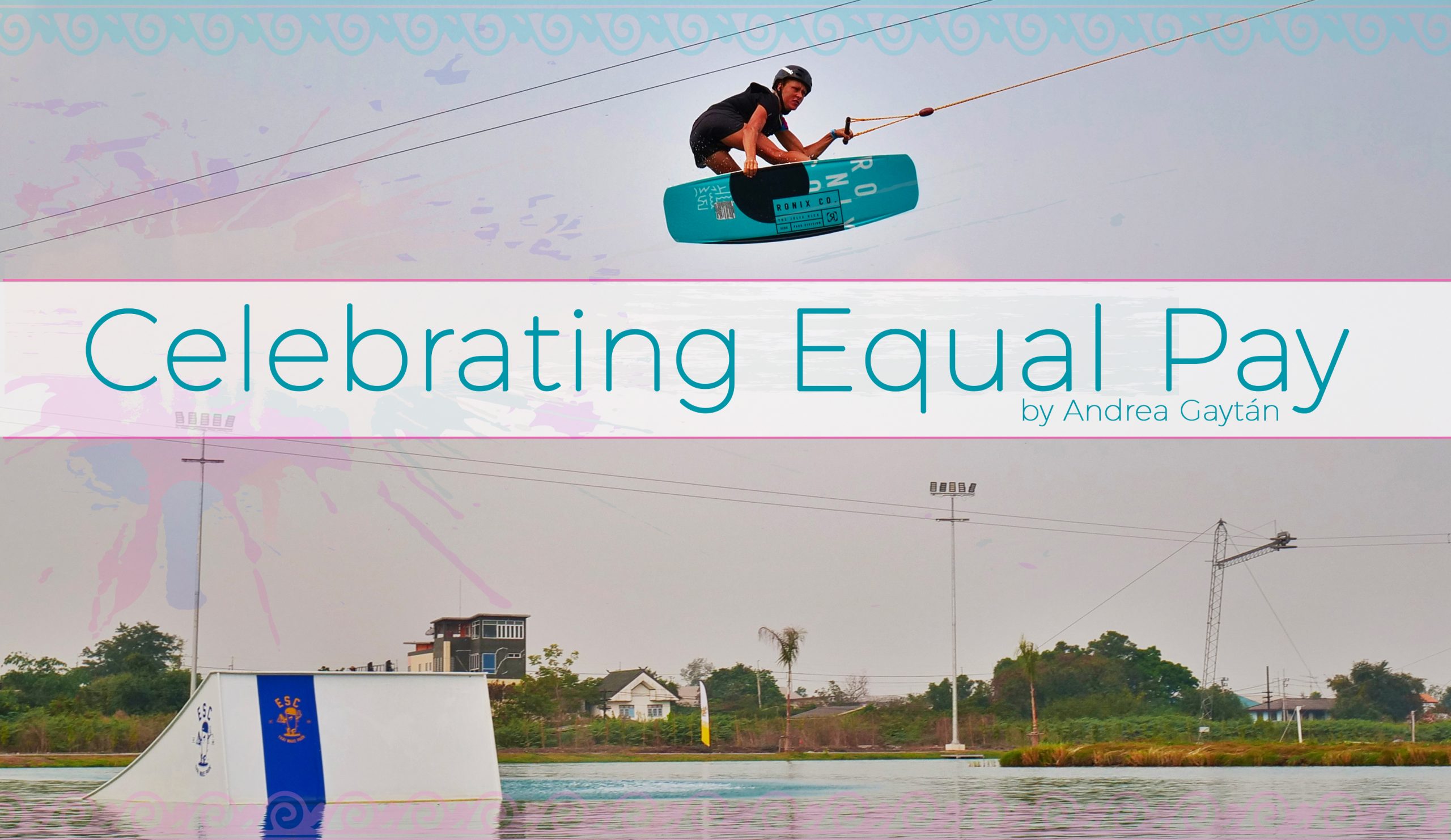 31 Mar

Celebrating Equal Pay, Part 1

Opening photo: Germany's Julia Rick made history as the first female wakeboarder to win Equal Pay. Photo Wilfried Rick
INTRO
The hottest news overheard en route to the 2018 Wakeboarding Hall Of Fame inductions, was that the World Surfing League would institute Equal Pay for women.  It was a polaroid moment that sketched memory with detail.  It took a few breaths to sink in, while a scent of hope lingered in the air. The Equal Rights Movement for professional women had gained immense momentum globally. But this was surfing, our big brother sport, who was balancing the scales. It was a huge step forward.
The archaic argument that female athletes get paid less than men because of an uneven retribution, had finally been outdated.  The excitement was palpable. The plight from the IWWF towards gender equality had started to bear fruit.
With the hopeful intent to get our sport into the Olympics Games, (where gender inclusion is the standard) the IWWF had payed equal podium at the Wake Park World Cup in Aqaba Jordan a few months prior.
After the WSL announcement, the bliss continued when the wakeboarding industry raised the bar by declaring that there'd be Equal Pay at the Wake Park World Cup in Shangai the following month. The WWA joined the equal opportunity endeavor and also had Equal Podium Pay at the 2018 WWA Wakeboard World Championships in Playa Del Carmen, Mexico.
That same year, at the Golden Globes, Glenn Close sent a powerful message about equality to all women in her acceptance speech, "I can do that, and I should be allowed to do that".
Back at Surf Expo, watching Sara Cline and Tara Hamilton's induction into the Wakeboarding Hall of Fame felt like a family reunion. It had been two decades since we'd seen each other and we wanted to reminisce.
Hall of famer Sonja Scheffler, Cathy Williams, Sara, photographer extraordinaire Bill Doster and myself went to ride at "Cathy's Bed" and shred.  We tried out the brand new Liquid Force wake surfers that Jimmy Redmond and Tony Finn gave us.  Those same two guys who first sponsored Cline and myself back in the "Wake Tech" times.
Sara hasn't changed much in the twenty years since we rode together.  Today she is a stunning mom, whose fierce green eyes flash as she drops the handle and surfs towards the back of the boat effortlessly.
Looking at the wake I can't help thinking it would've been nice to have a bigger wake thirty years ago, when it all first started. But then again, the thought makes my knees shake.
Cathy is at the wheel, she hasn't changed much either. From the times when we rode to contests, feasting on junk food in rented vans, and took turns driving while we built our sisterhood one road trip after the next.  She just came back from Dubai and is the first woman to drive the boat in International competitions.
It was not all road trips.  Things got much better.
At the back of the boat, Sonja Scheffler chews gum cheering at Sara.  Sonja still has a six pack abdomen after having two beautiful kids.  She looks on like a movie star behind her turtle shell colored sunglasses.
A smile starts to build across my face, memories with Sonja in New York, San Francisco and London being followed around and filmed like reality TV stars.  It was not all road trips.  By then, we were flowing with the magical momentum.  All of us girls, riding on our own girl boards wearing cute girl board shorts.
The force continued to escalate with staggering synchronicity. Soon the market exploded with sister apparel brands, like Rusty Girls, Volcom Girls, Billabong Girls and Roxy to name a few.
The level of riding rose like the evolving boat wake, going from the mere jet ski spray, to a slalom wake, through cement, fat-sacks, water-tanks, wedges and into unforeseen dimensions.
We have come a long way.
Sara gets in the boat.  It's Sonja's turn, she rips on the Liquid Force wake surfer until she's had enough. She pulls herself up unto the platform with dry hair while the boat is still going, "like a pro" (don't try this unless you are pro).
But there was a time when there were No Pro-Women on the Tour.  Times before wakeboarding became a profession, that'd allow the girls to experience the same lifestyle and training opportunities as the boys.
Much like and EKG, Women's Wakeboarding has had its ups and downs, but beneath and beyond the impetus has always been latent.  Here is how the first women's cash prize came about.
THE HISTORY OF PRO-WOMENS WAKEBOARDING
By the summer of 1996, pictures of girls doing inverts and grabs appeared in worldwide publications like Vogue, Glamour, Harper's Bazaar and Seventeen.  Thanks to the vision and efforts of action sports photographer and pioneer Kelly Kingman, who helped set in motion the professional Women's Wakeboarding Era.
Kelly had spent months in Florida shooting the top female riders and submitted her amazing action shots to the best women publications worldwide.  Kingman received a great response from the media who started to feature her photos immediately.
But the first nod for a women's cash purse started, when Nautique Masters Waterski and Wakeboard Organizing Committee's mentor Larry Meddock, and Wakeboarding's First World Champ Eric Perez, signed a petition to include women's wakeboarding in the traditionally gender inclusive event.
They invited three wakeboarders to compete at the 1996 Masters in an experimental Women's Wakeboarding Exhibition. The recipients of the honorary glossy invitations were Miss Donna Warren, Miss Dana Preble and myself.
After the contest, the three of us walked through the lush greens of Cypress Gardens feeling like royalty with the first checks awarded to female riders.  An exhibition was no real contest, but it was a start.
By 1997, Women's Wakeboarding was hot, and the year looked promising. In early spring, Tara Hamilton was featured on the cover of the avant garde "Launch Wakeboard" magazine, and the following month, I was the first girl to grace the cover of "Wakeboarding" magazine.
The momentum had finally caught on. Both the "XGames" and the "Callaway Masters" had added legit cash prize women's wakeboarding divisions, and Snow/Wake Contests like Boardfest and the Classic L.A. Open offered women's cash prize.
By April, at the first event of the season, the US Wakeboard and Waterski Pro Tour agreed to let the women have a separate division, but they offered no cash prize.  A tour official suggested that the women pay a double entry fee so we could use the over paid balance as the women's purse.
But the universe had a different plan…
It started with a phone call to "Performance Ski and Surf" owner Bill Porter. To support the girls, Bill offered to trade the female contestants equipment for cash.  Within minutes, every girl was calling their board sponsor asking to donate a women's board to the shop to participate in the women's cash prize.
Firm believer in the female movement, "Fulltilt's" CEO Bill Van Sickle, immediately sent down two new Supermodels.
Fireworks lit the sky, as the rest of the sponsors followed up like dominoes.
The O.G's
On a sunny morning at Orlando's Crane Roost Park, a remarkable line up of strong and attractive women awaited for their turn.
Fearless riders like Dana Preble, who'd be starting her pass with an infamous "Air Raley", dangerous trick that has broken necks.  Dana was the first girl to learn it, not long after Chet Raley invented it down in West Palm Beach, at the underground training school where coaches Mike Ferraro and Tanneguy Bennet were building champions.
The West Palm star studded mecca included the eminent Darin Shapiro who'd been coaching Tara Hamilton behind the scenes. The anticipation to watch her compete on her first pro contest was obvious.
A stunning trio of talented riders who'd transitioned from waterskiing also trained down in West Palm: England's Nicola Huntridge, Denmark's Marie Botved and trick skiing world record holder Britt Larsen.
Expectations ran high.
Leslie Kent was to be first off the dock.  She stood wearing an unzipped short vest that left her mid drift exposed at her stellar height.  Her long brown hair flew smoothly behind her as she calmly tried to untangle the knots of her thin and frazzled rope line.
Buster Lutgert closed her eyes visualizing her passes next to Sara Cline and myself who'd compete on our signature boards.
"Roxy" girl Tina Bessinger chatted anxiously with pal Jaimie Necrasson.  Sonja Scheffler arrived, relieved from her autograph signing duties, while Southern Belle Farrah Dawson placed a lock of her blonde hair behind her ear and looked on with quiet concentration.
All eyes were on us.
History was about to write itself, with the first cash purse for the women's wakeboarding division totaling 5,000 dollars.
At the end of the day, three of us stood proudly on the podium, holding up the huge "Performance Ski n' Surf" checks high above our heads in an ecstatic shared victory.  For the very first time, we not only got a trophy to take home, but a cash prize.
A defining moment in every athlete's life: When what you are most passionate about, becomes what you get paid to do… Turning pro is the athlete's dream coming true.
To be continued…
Our revered competitive sport that originated amidst the neon fueled nineties has grown and expanded. It has traveled the world from lakes into oceans, through rivers and fountains, exploring each and every body of water on the planet; from canals, to dams, over rails and fences into wake-stadiums and indoor training pools.  With Olympic dreams luring in the future, it is time to keep the momentum going.  It is time to bring the women riders back into the limelight, when athletes like Dallas Friday won an ESPY, as the level of the female riders continues to rise impressively.                                                
Stay tuned for part two. 
Check back on Friday April 10th 2020, to meet today's girl riders and Q&A interview with pro-rider Julia Rick, by Women Wakeboarding founder Liepa Girskaitė.